Strawberry & Matcha Tart
Summer 2019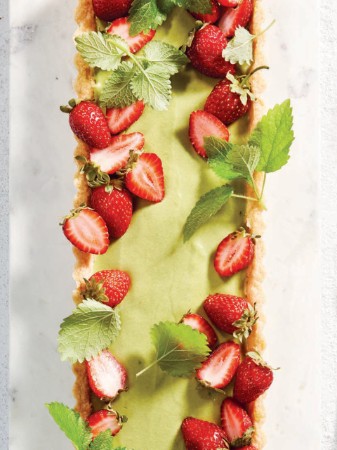 Strawberry & Matcha Tart
Summer 2019
BY: Christopher St. Onge
Matcha is a powdered green tea with a sweet-savoury flavour that works beautifully in pastries, particularly if there are berries involved. Leaving the green on some of your berries makes for a pretty tart—just be sure to eat around them. You can substitute raspberries for strawberries too, and dress them with a little rose-scented syrup instead of the elderflower cordial—Forbes makes a terrific wild rose version (wildfoods.ca). Substitute an 8-inch (20-cm) round tin for the rectangular one indicated if you prefer.
CRUST
1 cup (250 mL) all-purpose flour
¼ cup (60 mL) sugar
Pinch salt
7 tbsp (105 mL) unsalted butter, softened

MATCHA PASTRY CREAM
1 cup (250 mL) milk
1 tsp (5 mL) vanilla extract or paste
1 ½ tsp (7 mL) matcha tea powder
2 egg yolks
¼ cup (60 mL) sugar
2 tbsp (30 mL) cornstarch
2 tbsp (30 mL) unsalted butter
½ cup (125 mL) whipping cream
2 cups (500 mL) small strawberries
1 tbsp (15 mL) elderflower cordial or liqueur
Lemon balm sprigs to garnish (optional)
1 Preheat oven to 350°F (180°C).

2 For the crust, combine flour, sugar, salt and butter in a medium bowl. Using an electric mixer, beat until butter is evenly distributed (mixture will be crumbly). Tip into a 4 ½ x 11-inch (11 x 28-cm) tart tin with removable bottom.

3 Press dough into an even layer on bottom and up sides; prick bottom all over with a fork. Chill in freezer for 20 minutes. Bake in preheated oven for 20 minutes or until light golden; cool completely.

4 Meanwhile, prepare pastry cream: heat milk and vanilla until gently simmering in a small pot over medium heat; whisk in matcha.

5 In a medium heatproof bowl, beat egg yolks and sugar until pale yellow; mix in cornstarch. Slowly pour half of hot milk mixture over yolk mixture, whisking constantly. Return mixture to pot and, again whisking constantly, cook over medium until thickened; let boil 1 minute while continuing to whisk. Remove from heat; stir in butter. Scrape into a bowl; cover with plastic wrap and let cool completely.

6 Beat cream to stiff peaks; fold into matcha mixture. Scrape into tart shell and, using an offset spatula, evenly distribute. Smooth top.

7 Toss strawberries with elderflower cordial; arrange decoratively over tart and garnish with lemon balm, if desired. Serve immediately.
SHARE