Strawberry Granita
Été 2019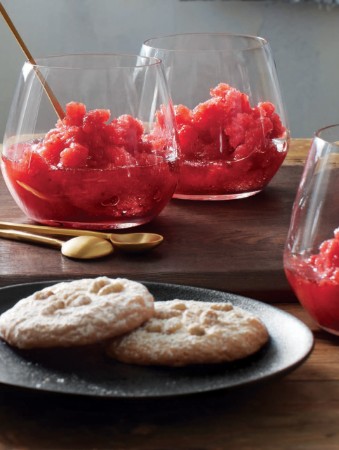 Strawberry Granita
Été 2019
BY: Tonia Wilson-Vuksanovic
You can scrape the granita to create shavings the day before and keep frozen in a closed container until ready to serve.
1 cup (250 mL) water
1 cup (250 mL) sugar
4 cups (1 L) whole ripe strawberries
3 tbsp (45 mL) lemon juice
1 In a small saucepan, heat water and sugar over low heat until sugar dissolves. Transfer to a small bowl and let cool in refrigerator for 30 minutes.

2 Place strawberries and lemon juice in a food processor. Add cooled sugar syrup to processor and blend until mixture is smooth.

3 Pour strawberry mixture into a glass pie dish or baking dish and place in freezer. Let freeze for 30 minutes, then use a fork to stir the mixture. Return to freezer and allow to freeze for another 30 minutes.

4 Once again, stir the mixture well and place in a glass or plastic storage container with a lid. Leave in freezer until completely frozen. Before serving, use a fork to scrape the granita to create shavings. Keep in freezer until ready to serve.

5 Place granita in small bowls or glasses and serve with Lemon Pignoli Cookies (recipe below).
Lemon Pignoli Cookies

These are the perfect summertime cookie—light and airy, like lemony clouds.


2 cups (500 mL) whole blanched almonds
¾ cup (175 mL) sugar
Zest of 1 lemon, finely grated with a rasp, about 1 tsp (5 mL)
1 cup (250 mL) icing sugar, plus more for dusting
3 large egg whites, lightly beaten
½ cup (125 mL) pine nuts
1 Preheat oven to 325°F (160°C).

2 Place almonds, sugar and lemon zest in a food processor; process on high until very fine, about 3 minutes. It should have the consis tency of sand.

3 Add icing sugar and egg whites. Process until well combined, scraping down sides as needed.

4 Drop 12 to 18 individual tablespoonfuls of mixture onto a parchment-lined baking sheet. Dampen fingertip with water and gently flatten the top of each cookie. Top with 10 pine nuts per cookie.

5 Bake on the middle rack of oven for 18 to 20 minutes. Let cool slightly before removing from sheet to cool, then dust with icing sugar.

6 Continue baking remaining batter.
SHARE