Steak "Carpaccio" Salad
Summer 2011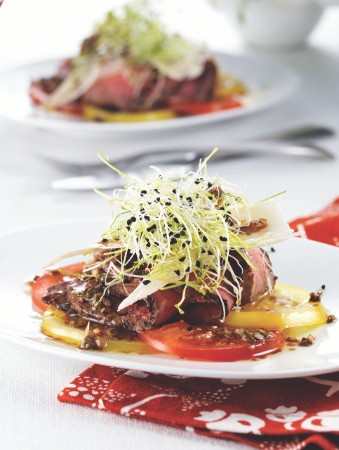 Steak "Carpaccio" Salad
Summer 2011
BY: Heather Trim
Substitute leftover grilled steak for raw beef in this "carpaccio" salad. Then add seasonal tomatoes and fresh curls of Parmesan. Drizzle with a balsamic dressing to complete the package.
1 tbsp (15 mL) balsamic vinegar
2 tbsp (30 mL) olive oil
1 tsp (5 mL) chopped drained capers
1 garlic clove, minced
¼ tsp (1 mL) each salt and pepper
2 medium tomatoes, preferably different colours, sliced
Thinly sliced leftover grilled steak, enough for 2 (about ½ strip loin)
6 to 8 wide shavings Parmesan cheese
1 small handful onion sprouts
1 In a small bowl, whisk balsamic with oil, capers, garlic, salt and pepper.

2 On 2 dinner plates, in a circle overlapping slightly, arrange tomato slices.

3 Arrange steak slices on top of tomatoes, mounding slightly. Follow with Parmesan shavings. Arrange sprouts on top. Drizzle with dressing. Serve immediately.
SHARE