Sriracha Caesar with Lemon-Grass-Poached Shrimp
Summer 2015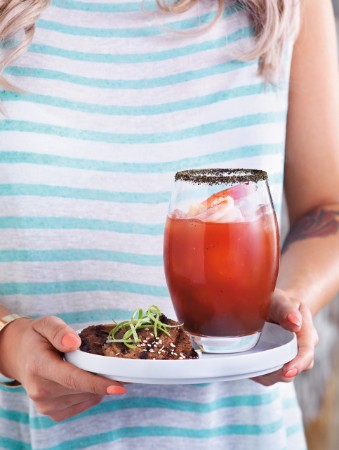 Sriracha Caesar with Lemon-Grass-Poached Shrimp
Summer 2015
BY: Kristen Eppich
A spicy twist on the classic Canadian Caesar.The sweet heat of Sriracha is balanced with the umami flavours of soy and oyster sauce. Lemon grass and ginger bring brightness to this cocktail. Roasted black and white sesame seeds are available at Asian grocery stores.
LEMON-GRASS-POACHED SHRIMP
1 stalk lemon grass
3 cups (750 mL) water
1 slice fresh ginger, ¼ inch (5 mm) thick
1 tbsp (15 mL) sugar
1 tsp (5 mL) salt
3 peppercorns
8 jumbo shrimp, peeled and deveined

NORI-SESAME RIM SALT
½ sheet nori, crumbled
1 tsp (5 mL) roasted black and white sesame seeds
½ tsp (2 mL) kosher salt

CAESAR
1 lemon wedge
1½ oz vodka
4 oz Clamato®
½ tsp (2 mL) soy sauce
¼ tsp (1 mL) Sriracha
¼ tsp (1 mL) oyster sauce
1 piece frozen ginger, 1 inch (2.5 cm) thick
1 Peel off the outer layer of lemon grass and discard. Bash the stalk with the back of a knife to release its flavour. Chop into 1-inch (2.5‑cm) pieces. Combine lemon grass with 3 cups (750 mL) water, ginger, sugar, salt and peppercorns in a pot over high heat. Bring to a boil, then reduce heat and simmer uncovered for 10 minutes or until reduced to 2 cups (500 mL).

2 Add shrimp to simmering liquid and cook for 1 minute. Remove pot from heat and let shrimp cool in the liquid for 20 to 30 minutes or until luke warm. Refrigerate shrimp in liquid until ready to use. Shrimp will last for 3 days.

3 Combine nori, sesame seeds and salt in a spice or coffee grinder. Pulse until it forms a powder. Reserve.

4 Moisten the rim of a glass with lemon wedge. Dip in nori-sesame salt until rim is coated. Fill glass halfway with ice.

5 Combine vodka, Clamato®, soy sauce, Sriracha and oyster sauce in an ice-filled shaker. Shake gently to combine. Strain into glass. Finely grate a dusting of frozen ginger on top. Garnish with a lemon-grass-poached shrimp.
SHARE