Spiced Cider Cup
Printemps 2011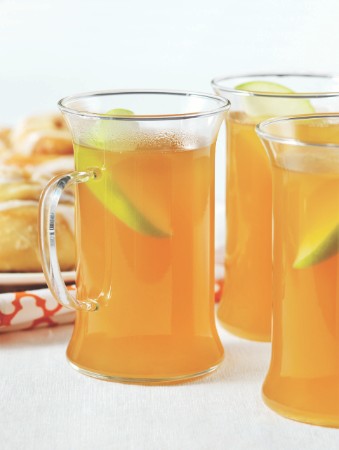 Spiced Cider Cup
Printemps 2011
BY: James Chatto
Think of this as mulled cider, heating it carefully and slowly without letting it boil. Serve warm in mugs or ice-cold in glasses. Adjust the spices to suit your taste. Most of the alcohol evaporates during the simmering; the Calvados is there to restore balance.
4 cups cider
3 tbsp sugar
1 large cinnamon stick
½-inch piece fresh ginger root
8 whole cloves
4 oz Calvados
1 In a saucepan, warm cider, stirring in the sugar until it dissolves. Add cinnamon, ginger and cloves and bring to a slow simmer. Take the pan of the heat and let it cool. Remove spices. Reheat the cup to serve it warm or refrigerate and serve it chilled. Either way, adding the Calvados gives the cup a little backbone.
SHARE