Spiced Brined Turkey
Temps des Fêtes 2019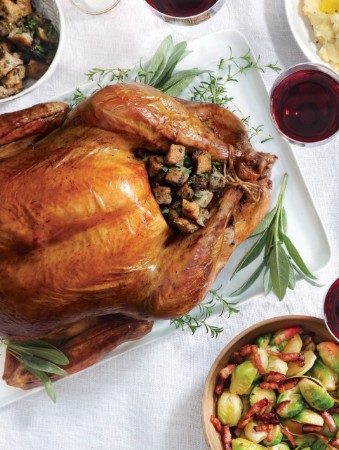 Spiced Brined Turkey
Temps des Fêtes 2019
BY: Monda Rosenberg
Brining ensures you will serve a succulent turkey. In addition to the thyme and bay leaves used in most brines, Chef Ryan adds lemons, star anise, fennel and coriander seeds to give another intriguing layer of taste to enhance the bird's natural flavour.
12 cups (3 L) ice
12 cups (3 L) water
¾ cup (175 mL) kosher salt
¾ cup (175 mL) granulated sugar
4 lemons, sliced in half
3 tbsp (45 mL) coriander seed
2 tbsp (30 mL) fennel seed
1 tbsp (15 mL) dried chili flakes (optional)
15 whole black peppercorns
10 cloves
6 star anise
3 cinnamon sticks
10 sprigs fresh thyme
3 sprigs fresh rosemary
16-lb (7.3-kg) turkey
1 Find a container that will fit in your refrigerator that is also large enough to hold the turkey when covered with liquid. Place the ice in the container.
2 In a large saucepan, bring 12 cups (3 L) water to a boil. Add salt, sugar, lemons, coriander and fennel seeds, chili flakes (if using), peppercorns, cloves, star anise, cinnamon sticks, thyme and rosemary. Bring back to a rolling boil, stirring until sugar and salt are dissolved. Pour over ice in container and stir until ice is dissolved.
3 Remove neck and gizzard from the bird and rinse out the body cavity. Place turkey in brine; if it doesn't completely cover the bird, add cold water. Refrigerate for 1 to 2 days.
4 When ready to roast, remove turkey from the brine. Rinse with cold water, then pat dry with paper towels. For crispy skin, once turkey has been dried with paper towels, place on a platter or baking sheet and return to the refrigerator. Leave, uncovered, for a day. The skin will dry out, which helps produce a crispy skin when roasted.
Makes enough brine for an 18-lb (8.2-kg) turkey
SHARE