Spanish Shrimp & Chickpea Soup
Winter 2017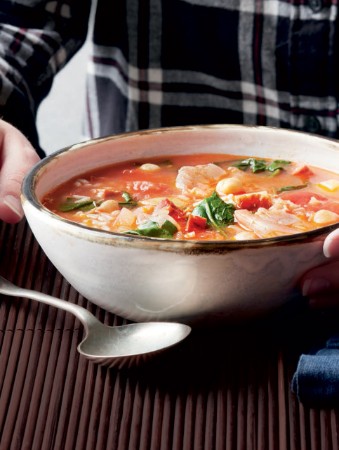 Spanish Shrimp & Chickpea Soup
Winter 2017
BY: Heather Trim
The best ingredients (think olive oil, anchovies and shrimp) from the Andalusian area in the south of Spain are used in this soup. Then it's tweaked with the addition of hearty Yukon gold potatoes, canned tomatoes (instead of fresh) and vitamin C-rich spinach to suit our cold Canadian winter.
2 tbsp (30 mL) olive oil
1 onion, finely chopped
¾ cup (175 mL) diced dry Spanish chorizo sausage, about 2 oz (60 g)
3 oil-packed anchovies, finely chopped
2 cloves garlic, minced
½ tsp (2 mL) hot red chili flakes
1 cup (250 mL) white wine
8 cups (2 L) chicken stock, preferably homemade
1 can (796 mL) chickpeas, rinsed and drained
1 can (398 mL) diced tomatoes
½ cup (125 mL) Spanish or Italian short-grain white rice
1 large unpeeled Yukon gold potato, diced
1 lb (500 g) peeled, raw, tail-removed shrimp, 31/40 count
4 cups (1 L) lightly packed baby spinach
Salt and pepper to taste
1. In a large pot, heat oil over medium heat. Add onion, stirring until tender, about 3 minutes. Add chorizo, anchovies, garlic and chili flakes, stirring; cook for another 3 minutes.

2. Add wine, stirring to remove any brown bits from bottom of pan. Continue to boil until it has nearly evaporated, about 5 minutes. Stir in stock, chickpeas and tomatoes. Bring to a boil. Add rice, cover and boil gently 20 minutes, adding potatoes for the last 10 minutes. Continue to cook until potatoes are tender.

3. Add shrimp and spinach, stirring just until shrimp are cooked and spinach is very wilted, about 5 minutes. Add salt and pepper. Ladle soup into bowls.
SHARE