Spanish Burger
Spring 2009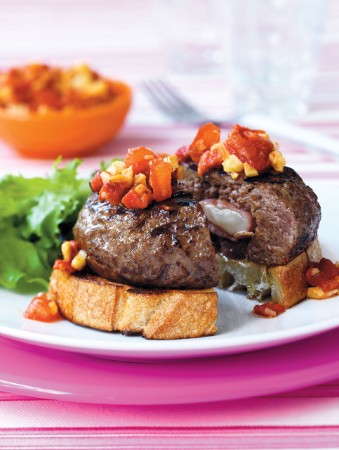 Spanish Burger
Spring 2009
BY: Lucy Waverman
This juicy hamburger with Spanish seasonings has a surprise package inside. The Spanish eat many types of meatballs and this is really a big meatball stuffed with Serrano ham and Manchego cheese.
11⁄2 lbs (750 g) ground chuck
Salt and freshly ground pepper
4 cubes Manchego cheese, 1 inch x 1⁄2 inch x 1⁄2 inch (2.5 cm x 1 cm x 1 cm) each
4 slices Serrano ham
1 tbsp (15 mL) olive oil
1. Preheat grill on high heat.

2. Lay out ground chuck in a single layer and season well with salt and pepper. Divide chuck into four 6-oz (175-g) portions.

3. Wrap each piece of Manchego in a 4-inch (10-cm) square piece of ham. Heat oil in a frying pan over medium heat. Add each ham-and-cheese bundle and fry, turning until ham is crisped and cheese is beginning to melt. Allow to cool slightly, fold meat around each bundle to form hamburgers about 1 inch (2.5 cm) thick.

4. Grill burgers for about 4 to 5 minutes a side or until just cooked through. Serve with Romesco Salsa on Tomato Toast (recipes follow).

Romesco Salsa
Romesco sauce originated in Tarragona, Catalonia. Rich and piquant, it can be made with hazelnuts instead of almonds and works equally well with seafood as with the burgers.

1⁄4 cup (50 mL) olive oil
1⁄2 cup (125 mL) chopped almonds
1 tsp (5 mL) chopped garlic
2 tomatoes, seeded and chopped
1⁄2 cup (125 mL) chopped roasted red pepper
1⁄2 tsp (2 mL) chili flakes or more to taste
1⁄2 tsp (2 mL) paprika
1 tbsp (15 mL) sherry vinegar
Salt to taste
1.  Heat 2 tbsp (25 mL) oil in skillet. Add almonds and sauté until lightly browned. Remove from heat, then stir in garlic, tomatoes, peppers, chili flakes, paprika and sherry vinegar.  Season with salt.

2.  Serve at room temperature. This will last for 2 weeks, covered, in the refrigerator.

Tomato Toast
You can toast this bread instead of grilling, if desired. Use a country bread or a sourdough with some texture.

6 slices bread
2 cloves garlic, cut in half
2 tomatoes, cut in half
1⁄4 cup (50 mL) olive oil
Salt to taste
1.  Grill bread about 2 minutes per side. Remove from grill and rub with garlic until the garlic is well incorporated.  Rub cut tomato, flesh-side down all over toasts making sure that the flesh is absorbed by the bread. Drizzle with olive oil and season with a little salt.
SHARE