Spaghetti Cacio E Pepe
Automne 2014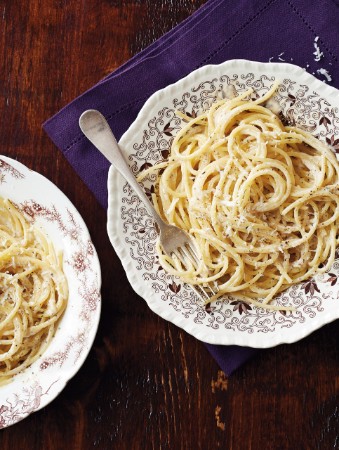 Spaghetti Cacio E Pepe
Automne 2014
BY: Kristen Eppich
Think macaroni and cheese for grown-ups. Cacio e pepe is a luscious cheesy pasta using sharp flavourful cheeses and lots of black pepper. Parmigiano-Reggiano and Pecorino are used here, but other hard Italian cheeses can be substituted in.
1 lb (500 g) spaghetti
¼ cup (60 mL) olive oil
4 oz (125 g) grated Parmigiano-Reggiano, about 1½ cups (375 mL)
4 oz (125 g) grated Pecorino Romano, about 1½ cups (375 mL)
1 tbsp (15 mL) cracked black pepper
1 Bring a large pot of salted water to a boil. Cook pasta according to package directions until al dente, about 9 to 10 minutes. Drain and reserve ½ cup (125 mL) pasta water. Set aside.

2 Return pot to stovetop over low heat. Add oil, then pasta and toss until coated. Stir in both cheeses. Add 2 tbsp (30 mL) cooking water and stir in. Continue adding cooking water in 2-tbsp (30-mL) additions, stirring continuously, until spaghetti is coated with a thick, creamy sauce. Stir in pepper.

3 Divide pasta among bowls. Garnish with more grated cheese and freshly cracked black pepper.
SHARE