Southwest Spoon Salad
Early Summer 2014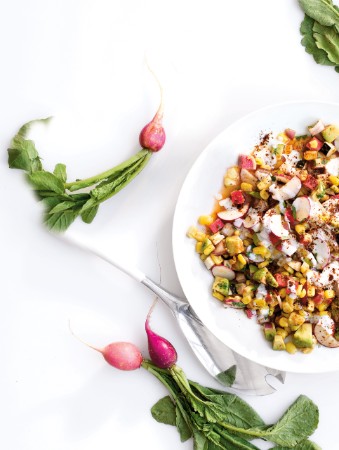 Southwest Spoon Salad
Early Summer 2014
BY: Tonia Wilson-Vuksanovic
Radishes come in a rainbow of colours, and unusual varieties are increasingly available at farm stands and retailers alike. Be sure to add them to the salad just before serving so they stay crisp and peppery.
4 cloves garlic
3 tbsp (45 mL) sour cream
¼ cup (60 mL) buttermilk
Salt and freshly ground pepper
3 tbsp (45 mL) orange juice
2 tbsp (30 mL) lime juice
1 tsp (5 mL) lime zest
⅓ cup (80 mL) olive oil
2 tsp (10 mL) ground cumin
½ tsp (2 mL) ground dried chipotle
2 cups (500 mL) cooked (or thawed frozen) corn kernels
1 small red onion, chopped
2 firm, ripe avocados
2 bunches small heirloom radishes, thinly sliced
¼ cup (60 mL) chopped cilantro
2 tsp (10 mL) ancho chili powder
1 Combine 2 cloves of garlic, sour cream and buttermilk in a blender and process until smooth. Season mixture with salt and freshly ground pepper; cover and refrigerate until ready to serve salad.

2 Finely chop remaining 2 cloves of garlic; place in a large salad bowl. Whisk in orange and lime juice, zest, olive oil, cumin and chipotle. Season with salt and freshly ground pepper. Add corn and onion to bowl. Peel avocados, dice and add to bowl; gently mix to coat all in dressing (salad may be made to this point, covered and refrigerated for up to 4 hours).

3 When ready to serve, add radish slices and cilantro; stir to combine. Drizzle with reserved buttermilk mixture, and sprinkle with ancho chili.
SHARE