Southern Ginger
Winter 2016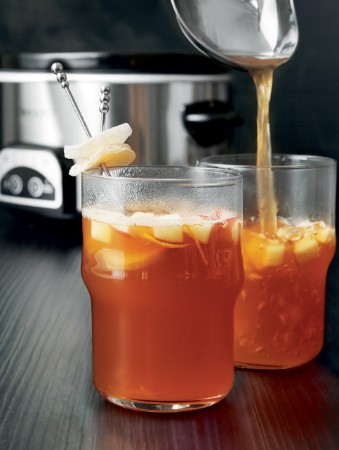 Southern Ginger
Winter 2016
BY: Michelle P. E. Hunt and Laura Panter
Bourbon pairs beautifully with fresh ginger, lemon, black tea and honey in this wonderful warm sipper.
1 For tea, to a heatproof container, add 2 cups (500 mL) hot water and 2 black tea bags. Allow to steep for several minutes, remove and discard the tea bags.

2 To a slow cooker or large pot, add 2 cups (500 mL) bourbon, 1 cup (250 mL) lemon juice, 1 cup (250 mL) honey, 1 cup (250 mL) water, 2 cups (500 mL) black tea. Add 2 tbsp (30 mL) sliced fresh ginger, the zest of 1 orange, and 1 apple, cored and chopped. Heat, but do not allow to boil, allowing the liquid to warm for at least 15 to 30 minutes, stirring occasionally. Spoon into cups and garnish each with a candied ginger slice.
SHARE