Smoky New Apple & Brussels Sprouts Salad
Automne 2016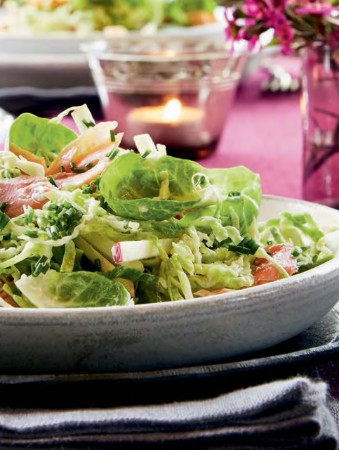 Smoky New Apple & Brussels Sprouts Salad
Automne 2016
BY: Christopher St. Onge
This so-good salad is made better by assembling most of the ingredients ahead of time, pretty much doubling the "good" by freeing you up to finish dinner. In the time spent standing, the smokiness of the trout is amplified. Newly harvested apples have a brightness and juiciness that long-stored apples do not and are a treat to eat.
1 lb (500 g) Brussels sprouts
6 oz (175 g) smoked trout, skin and bones removed, broken into small pieces
⅓ cup (80 mL) mayonnaise
2 tbsp (30 mL) crème fraîche
1 tbsp (15 mL), plus 1 tsp (5 mL) white wine vinegar
2 tbsp (30 mL) freshly grated horseradish
Salt and freshly ground pepper to taste
1 new apple
2 tsp (10 mL) lemon juice
2 tbsp (30 mL) chopped chives
1 Trim the ends of the Brussels sprouts and remove and discard any discoloured leaves. Pull away the next 3 or 4 easiest-to-remove outer leaves from each head and add to a large bowl. Using a mandoline, thinly slice what remains of each sprout head and add to the bowl along with the smoked trout.

2 In a separate small bowl, whisk together the mayonnaise, crème fraîche, vinegar and horseradish; season with salt and pepper. Pour over Brussels sprouts mixture, toss to combine and refrigerate for at least 30 minutes and as long as 2 hours.

3 When ready to serve, cut apple into matchsticks and sprinkle with lemon juice. Check slaw for seasoning and add more salt only if necessary. Add apple to bowl, gently toss and divide between 6 salad plates. Sprinkle each with an equal amount of chives.
SHARE