Skillet Rösti with Smoked Salmon & Chive Sour Cream
Temps des Fêtes 2015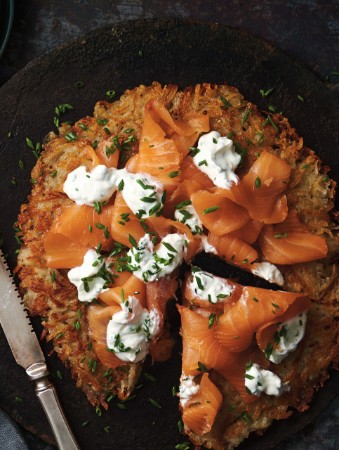 Skillet Rösti with Smoked Salmon & Chive Sour Cream
Temps des Fêtes 2015
BY: Amy Rosen
One of my main cooking philosophies is that a classic is always timely (which is a classier way of saying, if it ain't broke, don't fix it.) And that's where this warm, crisp and satisfying potato rösti comes into play. Accented with fresh chive sour cream and smoked salmon, it's as humble and delicious as it's always been.
½ cup (125 mL) melted unsalted butter, divided
1 tbsp (15 mL) vegetable oil
3 russet potatoes, peeled, grated and
squeezed dry in clean tea towel
2 tbsp (30 mL) flour
½ tsp (2 mL) kosher salt
¼ tsp (1 mL) black pepper
3 tbsp (45 mL) snipped chives, plus more for garnish
1 cup (250 mL) sour cream
Generous 9 oz (275 g) smoked salmon or smoked trout or gravlax
1. Add 1 tbsp (15 mL) melted butter and 1 tbsp (15 mL) vegetable oil to 8-inch (20-cm) skillet and heat over medium heat.

2. Add grated potatoes to a large bowl and toss with remaining melted butter, flour, salt and pepper. Toss until well combined.

3. Tip mixture into hot pan and press down firmly with hand or spatula to help it form a solid cake. Cook over medium heat for 5 to 6 minutes or until it is golden brown underneath (you can check the colour by gently lifting up the edge of the rösti with a spatula, but don't do this too early as the rösti may come apart). When nicely browned on the bottom, loosen rösti from the pan with spatula and slide it onto a plate (remember, the skillet handle will be hot). Place another plate on top and holding both plates together, flip them over. Carefully slide browned-side-up rösti back into the skillet and continue cooking for 6 to 7 minutes more, or until golden brown on bottom and cooked through. Remove from heat and slide rösti onto a serving plate.

4. Stir chives into sour cream.

5. Top warm rösti with curls of smoked salmon and dollops of chive sour cream, plus more chives for garnish if you please.


SHARE