Simple Potato Salad
Summer 2018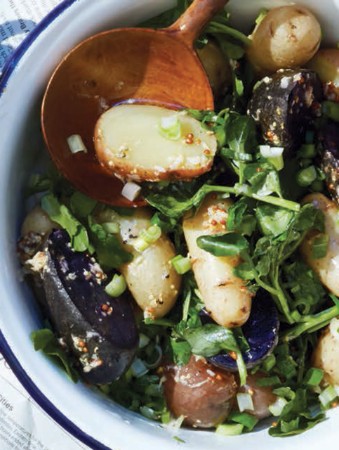 Simple Potato Salad
Summer 2018
BY: Lucy Waverman
The secret to this salad is to use several types of potatoes. Fingerlings, purple potatoes and red potatoes make a flavourful mixture. Do not peel the potatoes, but cut them in half. If the sizes vary too much, then cut the larger ones in quarters.
2 lbs (905 g) small potatoes, unpeeled, halved or quartered, if large
½ cup (125 mL) olive oil
¼ cup (60 mL) white wine vinegar
1 tbsp (15 mL) horseradish
2 tsp (10 mL) grainy mustard
Salt and freshly ground pepper
1 bunch watercress, leaves and small stems only
½ cup (125 mL) finely chopped green onions
1. Place potatoes in a pot, cover with salted water and bring to a boil. Boil potatoes until crisp-tender, about 8 to 10 minutes. Drain well and return to the shut-o¤ burner to remove any excess water.

2. Whisk together oil, vinegar, horseradish and mustard in a large bowl. Season with salt and pepper.

3. Transfer warm potatoes to a bowl and toss with half the dressing. Cool.

4. Add watercress, green onions and remaining dressing just before serving, seasoning again if needed.
SHARE