Shrimp Dumplings in Herbed Broth
Printemps 2013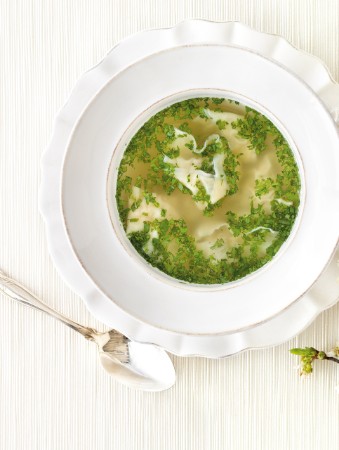 Shrimp Dumplings in Herbed Broth
Printemps 2013
BY: Tonia Wilson-Vuksanovic
Be sure to add the fresh herbs to the soup just before serving in order to keep their colour and taste bright and fresh.
1 stick lemon grass, trimmed to a 5 inch (12 cm) piece at the root end, crushed lightly
8 cups (2 L) chicken or vegetable stock
⅓ cup (80 mL) fresh ginger, finely sliced
2 cloves garlic, sliced in half, crushed lightly
1 tbsp (15 mL) white miso paste
2 cups (500 mL) water
1 lb (500 g) raw shrimp, peeled
¼ cup (60 mL) green onions, finely chopped
1 tsp (5 mL) soya sauce
1 egg, separated
1 tbsp (15 mL) water
36 square wonton wrappers
½ cup (125 mL) fresh herbs, finely chopped (use a mix of chives, tarragon, cilantro and/or parsley)
1 Cut lemon grass into ½-inch (1-cm) pieces. Put them into a large pot with stock, ginger, garlic, miso paste and 2 cups (500 mL) water. Heat and simmer for 20 minutes.

2 Meanwhile, add shrimp and green onions to food processor. Pulse until shrimp are chopped finely. Stir shrimp mixture together in a bowl with soya sauce and egg yolk. In a small bowl lightly beat together egg white and 1 tbsp (15 mL) water.

3 Lay 2 wonton wrappers on work surface. With fingertip or small brush, wipe edges of wrapper with egg white. Place 1 tsp (5 mL) of shrimp mixture in middle of wrapper. Diagonally fold wrapper in half to seal and form a triangle, repeat with second wrapper. To complete dumpling, brush 1 side corner of triangle with egg white and attach to other corner to form a dumpling (or tortellini shape). Repeat with remaining dumplings, making sure not to overfill the wrappers or they will not close properly.

4 Strain ginger, garlic and lemon grass from stock, place stock back in pot with dumplings and simmer over medium-low heat for 7 minutes, or until dumplings are cooked through. Stir in fresh herbs.

5 Divide dumplings between 6 bowls and top with broth.
SHARE