Sea Salt, Maple & Cashew Protein Bites
Printemps 2020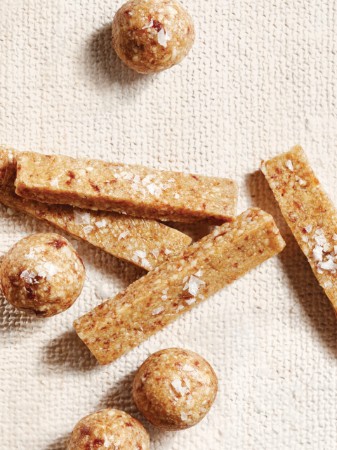 Sea Salt, Maple & Cashew Protein Bites
Printemps 2020
BY: Marcella DiLonardo
These energy bites are so simple and filling. The combination of sweet maple syrup mixed with flaky sea salt pairs perfectly with the creaminess of cashews. This recipe will quickly become a favourite in your house. It can easily go from bites to bars too!
1½ cups (375 mL) unroasted unsalted cashews
8 pitted Medjool dates
¼ cup (60 mL) pure maple syrup
1 tsp (5 mL) pure vanilla extract
¼ tsp (1 mL) fine salt
Flaky sea salt, for topping
1 Place cashews, dates, maple syrup, vanilla and fine salt in a food processor. Blend until mixture begins to come together, about 60 seconds, scraping down the sides as needed. Refrigerate for 30 minutes to firm.

2 Shape mixture into 15 bite-sized balls. Sprinkle with a touch of flaky salt.

3 Refrigerate until ready to eat. Store in an airtight container for up to a week.
SHARE