Savoy Salmon with Caper Butter, Bok Choy & Peas
Autumn 2017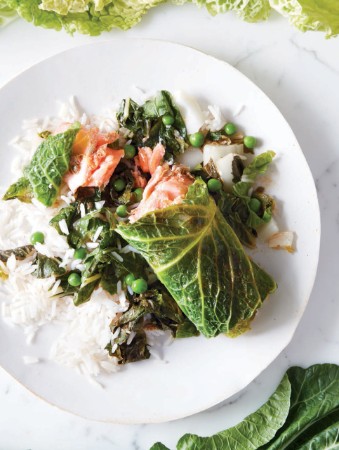 Savoy Salmon with Caper Butter, Bok Choy & Peas
Autumn 2017
BY: Amy Rosen
One of the oldest cultivated vegetables in the world, cabbage has a winning taste and great crunch, not to mention some fantastic nutritional benefits including fibre, vitamin C and vitamin K. This dish ups the ante with two types of cabbage, salmon and peas, complemented by a zip of spice for a refreshingly different autumn-evening meal.
1 large bok choy, trimmed and chopped
Sea salt
Black pepper
1 head Savoy cabbage
½ cup (125 mL) unsalted butter, room temperature
¼ cup (60 mL) drained capers, divided
1 tbsp (15 mL) sriracha
Zest of 1 lemon
6 salmon fillets, each 5 oz (150 g)
1 cup (250 mL) frozen green peas, defrosted
1. Place prepared bok choy evenly in a buttered 9 x 13-inch (23 x 33-cm) baking dish. Season generously with salt and pepper. Set aside.

2. Bring a large pot of salted water to a boil. Separate Savoy cabbage leaves and blanch for 3 to 4 minutes. You need 6 large intact leaves for this recipe. Drain in colander and rinse thoroughly with cold water. Pat dry.

3. Place room-temperature butter in a bowl. Chop capers and mix into bowl with butter, sriracha, lemon zest and salt and pepper to taste. In small dollops, dot bok choy with about half of this mixture.

4. Preheat oven to 350°F (180°C).

5. Place blanched cabbage leaves on a cutting board and trim the centre vein of each so that the cabbage leaves lie flat. Pat fish fillets dry and spread each with 1 tbsp (15 mL) of spicy caper butter then place a fish fillet on bottom third of each leaf, butter-side down. Encase fillets in cabbage leaves by pulling leafy parts of cabbage leaves overtop fish skin. Place wrapped fillets evenly, seam-side down, in baking dish on top of bok choy. Season generously with salt. Bake until fish is almost cooked through, about 25 minutes, then add peas and bake for 5 minutes more. Place some bok choy and peas on each plate, top with a piece of salmon, the cabbage slightly split open to expose fish, and serve with basmati rice.
SHARE