Savoury Mini Cheesecakes
Holiday 2005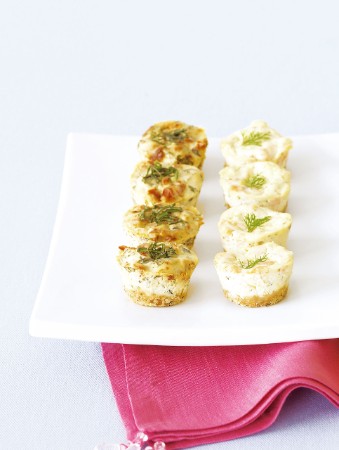 Savoury Mini Cheesecakes
Holiday 2005
BY: Jill Snider
You can prepare 2 different tastes from 1 filling, which means you can please both vegetarians and seafood lovers at the same time. These tarts should be frozen if you are packaging them as they are fragile. If you want to give them as a fresh gift, place them on a tray and cover with cello wrap. They should also be refrigerated if not eaten right away. A great partner for a well-balanced dry white wine. Cheesecakes can be refrigerated for up to 2 days or frozen.
Basic Cheesecake
3oz (90g) pretzels
¼ cup (50 mL) butter, melted
8 oz (250g) cream cheese, softened
2 eggs
2 tbsp (25 mL) all-purpose flour
Pinch freshly ground black pepper
1 cup (250 mL) sour cream

Smoked Salmon Filling
½ cup (125 mL) chopped smoked salmon
1 tbsp (15 mL) chopped fresh dill
1 tbsp (15 mL) lemon juice
½ tsp (2 mL) grated lemon zest
Fresh dill sprigs to garnish

Sun-Dried Tomato and Olive Filling
5 tbsp (75 mL) finely chopped sun-dried tomatoes
3 tbsp (45 mL) chopped black olives
1½ tbsp (22 mL) chopped fresh basil
Fresh basil leaves to garnish
1. Preheat oven to 300ºF (150ºC).

2. Spray 3 miniature muffin trays with nonstick cooking spray.

3. Process pretzels in food processor until very fine (consistency of dry bread crumbs). You should have ¾ cup (175 mL) crumbs. Mix with melted butter. Press 1 tsp (5 mL) into bottom of each muffin cup. Bake in centre of preheated oven for 6 to 8 minutes or until set.

4. Beat cream cheese to blend. Add eggs, 1 at a time, beating until smooth. Beat in flour, pepper and sour cream. Divide mixture into 2 bowls. Stir ingredients for salmon filling into 1 bowl and Sun-dried Tomato and Olive filling into the other. Mix well. Spoon about 1 tbsp (15 mL) filling over each tart base. Bake 15 to 20 minutes or just until filling is set. Cool to room temperature on wire rack, then cover and refrigerate at least 2 hours or up to 24 hours. Run knife around edge of each cheesecake to loosen. Garnish with fresh dill or basil leaf before serving.
Makes 36 mini cheesecakes
SHARE