Sautéed Seasonal Greens & Cheese Toasts with Soft-Boiled Eggs
Early Summer 2014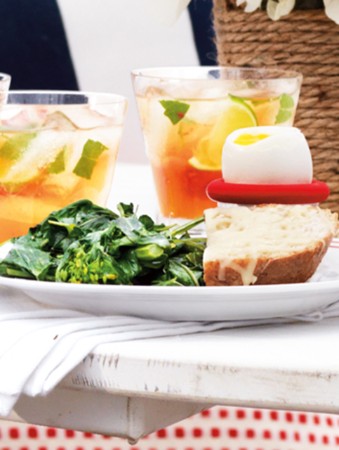 Sautéed Seasonal Greens & Cheese Toasts with Soft-Boiled Eggs
Early Summer 2014
BY: Victoria Walsh
You can put this sophisticated-looking lunch together in just 15 minutes flat.
8 thick slices of country loaf, preferably multi-grain
2 to 3 oz (60 to 90 g) Gruyère, grated
8 large eggs
3 tbsp (45 mL) butter
32 cups (8 L) hearty seasonal greens such as baby kale, baby spinach, Swiss chard and choy sum
½ tsp (2 mL) each salt and freshly ground pepper
Pinches of salt, preferably Maldon
1 Preheat oven to 400°F (200°C). Arrange bread slices over a large baking sheet. Sprinkle with cheese.

2 Meanwhile, bring a large pot of water to a boil. Adjust heat so water is gently boiling. Using a slotted spoon, carefully add eggs to pot. Cook for 4 minutes. Remove to egg cups (or even napkin rings).

3 Meanwhile, melt butter in a large frying pan or skillet over medium-high heat. Add greens. Sprinkle with ½ tsp (2 mL) each salt and pepper. Sauté for 2 to 4 minutes or until slightly wilted.

4 Meanwhile, bake toasts in preheated oven for 2 to 3 minutes or until cheese melts. Divide greens between plates. Cut tops from eggs. Sprinkle each egg with a pinch of salt. Set on plate with greens along with toast. Serve immediately.
SHARE