Saffron-Spiced Tomato Chicken
Early Summer 2010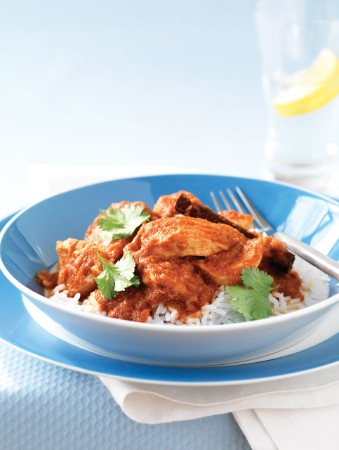 Saffron-Spiced Tomato Chicken
Early Summer 2010
BY: Emily Richards
This uniquely flavoured dish has a hint ofIndian authenticity with the combination of ginger, garlic, cumin and coriander but the Mediterranean flare of saffron and tomatoes. A saucy chicken recipe that is perfect served over basmati rice or couscous. Look for deep rich mahogany-coloured saffron threads to add a tang and punch to the sauce.
2 small onions, quartered
1 piece fresh ginger, 1½ inch (4 cm) peeled
4 cloves garlic
1 cup (250 mL) chicken stock
2 tbsp (25 mL) vegetable oil
2 cinnamon sticks
2 bay leaves
6 whole cloves
1 tsp (5 mL) each ground cumin and coriander
1 bottle passata di pomodoro (strained tomatoes), 680 mL
2 lbs (1 kg) boneless skinless chicken breasts, cut into thin strips (about 5 large breasts)
2 tbsp (25 mL) warm milk
½ tsp (2 mL) saffron threads
⅓ cup (75 mL) plain yogourt
1 Purée onions, ginger, garlic and ¼ cup(50 mL) of the chicken stock in blender until smooth; set aside.

2. Heat oil in large shallow saucepan over medium heat. Add cinnamon, bay leaves and cloves and cook, stirring, for 1 minute. Add onion purée, cumin and coriander and cook for 3 minutes or until softened. Add strained tomatoes and remaining chicken stock. Bring to a boil.

3. Stir in chicken; bring to a simmer, stirring occasionally for 15 minutes. In a bowl, combine milk and saffron and whisk into yogourt. Stir yogourt mixture into chicken and simmer for 2 minutes to heat through.
SHARE