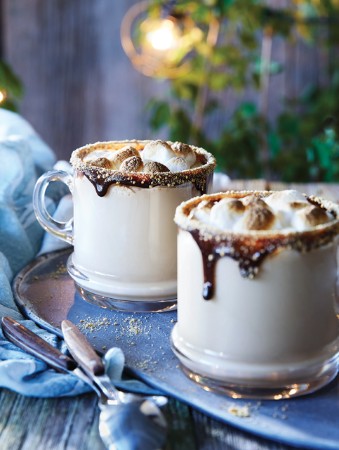 BY: The Sherwood Inn, Port Carling, Ontario
Made in the U.S., RumChata is a new cream liqueur based on the Latin-American drink horchata. Vanilla, cinnamon and a secret blend of other spices flavour the rich cream, while a blend of five Caribbean rums is a very subtle presence, bringing the alcohol by volume up to a reasonable 13.75%.
Assistant Dining-Room Manager Alexandria Haxton gives a grown-up twist to the flavours of the favourite campfire treat with RumChata cream liqueur and crème de cacao. Top it off with roasted mini-marshmallows, either roasted prior to garnishing or scorched on top of the cocktail with a brûlée torch. For a simpler (but less S'moresy) late-night version, omit the rim of syrup and crumbs and hold off the marshmallows.
1 tbsp (15 mL) chocolate syrup
1 tbsp (15 mL) graham cracker crumbs
4 oz hot coffee
½ oz brown crème de cacao
1 oz RumChata
1 oz cream (half & half)
Mini marshmallows
1 Dip the rim of your mug into the chocolate syrup, then dip into graham cracker crumbs (crushed using a food processor or blender).
2 Pour about ¼ oz chocolate syrup into the bottom of the mug. Add coffee, crème de cacao, RumChata and cream; stir. Top with roasted mini marshmallows.
SHARE