Roasted Squash Salad with Maple-Apple Cider Vinegar Gastrique
Printemps 2018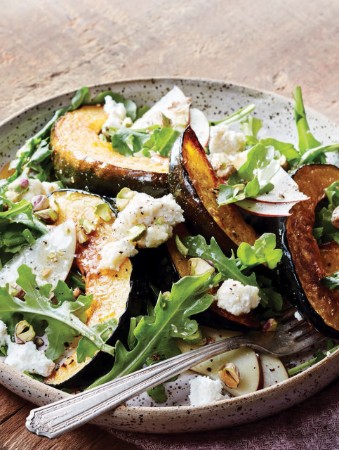 Roasted Squash Salad with Maple-Apple Cider Vinegar Gastrique
Printemps 2018
BY: Amy Rosen
Acorn squash has such a tender skin you don't have to peel it (plus, hello extra fibre.) Peppery arugula is a lovely foil for the sweet and sour reduction, and the fresh ricotta, crisp apples and crunchy nuts make for a power play of a main course salad.
1 medium-size acorn squash, washed
1 tbsp (15 mL) olive oil
Salt to taste
¼ tsp (1 mL) chili flakes
½ cup (125 mL) maple syrup
½ cup (125 mL) apple cider vinegar
1 clamshell (142 g) baby arugula
1 small McIntosh apple, cored and very thinly sliced
1 cup (250 mL) extra smooth ricotta cheese
½ cup (125 mL) shelled, salted pistachios, roughly chopped
Salt and pepper to taste
1. Preheat oven to 400°F (200°C). Line a baking sheet with aluminum foil.

2. Slice squash in half lengthwise, seed and stem it, then cut each half into ½-inch (1-cm) wedges (about 15 in total). Place on baking sheet and toss with oil, salt and chili flakes. Roast for about 25 minutes, flipping halfway through, until squash wedges are slightly browned. Set aside to cool.

3. In a small pot over medium heat, combine maple syrup and vinegar. Let reduce down to a thin syrup, about 10 to 15 minutes. Set aside to cool.

4. When you're ready to serve, lay out a base of arugula, layer on roasted squash and apple slices, then soupspoons of ricotta dotted about. Drizzle with syrup, sprinkle with pistachios and season generously with salt and pepper.
SHARE