Roasted Cauliflower & Freekeh Bowl
Holiday 2016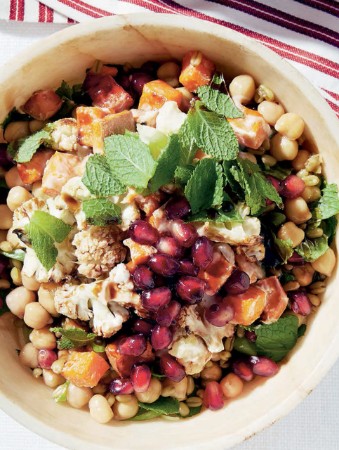 Roasted Cauliflower & Freekeh Bowl
Holiday 2016
BY: Amy Rosen
Freekeh, an ancient grain with a tender chew, is a good source of protein and fibre, especially when paired with chickpeas. And who doesn't love roasted cauliflower with tahini? (Hint: nobody.)
1 cup (250 mL) whole freekeh
1 small cauliflower, core removed, head broken into small florets
2 medium sweet potatoes, cut into ½ inch (1 cm) cubes
2 tbsp (30 mL) olive oil
Salt and pepper
1 can (540 g) chickpeas, rinsed and drained
½ cup (125 mL) pomegranate seeds, plus extra for garnish
¼ cup (60 mL) mint leaves, torn, plus extra for garnish
3 green onions, sliced
¼ cup (60 mL) tahini
½ cup (125 mL) plain 2% yogurt
Juice of ½ a lemon
Drizzle of pomegranate molasses (optional but good), recipe at foodanddrink.ca
1 Preheat oven to 400°F (200°C).

2 To a medium saucepan add 2 cups (500 mL) salted water and bring to a boil. Add freekeh, reduce to a simmer, cover and cook for 20 to 25 minutes or until water has been absorbed. Remove from heat and let sit 10 minutes covered, then 10 minutes uncovered. Drain if there is any excess water.

3 Toss cauliflower and sweet potatoes in olive oil on a foil-lined baking sheet, season with salt and pepper, and distribute evenly. Roast for 25 minutes, tossing at the halfway point, or until lightly browned.

4 Combine freekeh with chickpeas, pomegranate seeds, mint and green onion. Season to taste with salt and pepper.

5 Stir together tahini, yogurt and lemon until smooth. Toss with roasted cauliflower and sweet potatoes.

6 To assemble, divide freekeh mixture evenly among bowls and top with tahini-dressed cauliflower and sweet potato. Garnish with a drizzle of pomegranate molasses, pomegranate seeds and fresh mint.
SHARE