Roasted Carrot Salad with Herbed Tahini, Pomegranate Seeds & Pistachios
Printemps 2019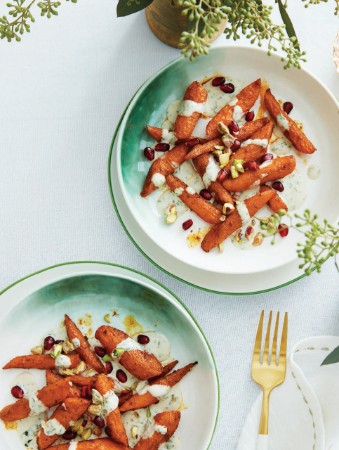 Roasted Carrot Salad with Herbed Tahini, Pomegranate Seeds & Pistachios
Printemps 2019
BY: Lucy Waverman/Leslie Beck & -
You can buy the Mediterranean mixture Ras al Hanout, which is a mixture of warm spices with a slight pepperiness. You can also make a simple one (recipe follows). Use Ras al Hanout on steaks or chicken for the barbecue or to give a slight spikiness to vegetables. If making ahead and the tahini sauce thickens, add a little extra water until it's the desired consistency.
1 lb (455 g) carrots, scrubbed
1 tbsp (15 mL) olive oil
4 tsp (20 mL) Ras al Hanout
¼ tsp (1 mL) salt
SAUCE
¼ cup (60 mL) tahini
¼ cup (60 mL) water
2 tbsp (30 mL) chopped parsley
2 tbsp (30 mL) chopped cilantro
¼ tsp (1 mL) salt
Freshly ground pepper to taste

GARNISH
2 tbsp (30 mL) pomegranate seeds
2 tbsp (30 mL) pistachios
1 Preheat oven to 425°F (220°C).

2 Cut carrots in 2-inch (5-cm) pieces on the diagonal. Toss with oil and Ras al Hanout. Season with salt. Lay on a parchment-lined baking sheet and bake for 30 to 40 minutes or until tender and browned.

3 Combine tahini, water, parsley and cilantro. Season with salt and pepper.

4 Drizzle sauce over carrots just before serving. Garnish with pomegranate seeds and pistachios.
Serves 4, makes ½ cup (125 mL) sauce
Ras al Hanout
1 tbsp (15 mL) coriander seeds
1 tbsp (15 mL) black peppercorns
1½ tsp (7 mL) cumin seeds
½ tsp (2 mL) whole allspice
1½ tsp (7 mL) ground turmeric
½ tsp (2 mL) ground cinnamon
½ tsp (2 mL) freshly ground nutmeg
1 Toast coriander seeds, peppercorns, cumin and allspice in a dry frying pan over medium heat for about 1 minute or until you can smell the spices.
2 Place in a spice grinder or co¤ee grinder. Stir in turmeric, cinnamon and nutmeg. Grind together until powdery. 
Makes about 3 tbsp (45 mL) Ras al Hanout 
SHARE