Roast Pork Belly with Prune Sauce
Holiday 2020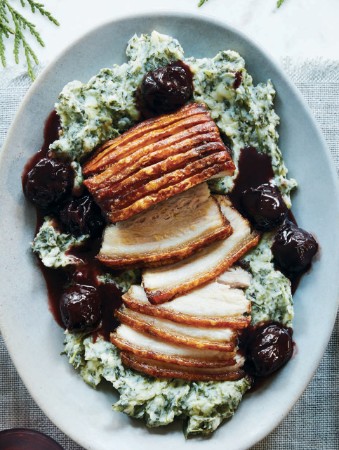 Roast Pork Belly with Prune Sauce
Holiday 2020
BY: Christopher St. Onge
Pork belly is inexpensive and makes a virtually foolproof roast. It's also a food lover's treat. The hardest part here is scoring the skin, an essential step that ensures as much fat as possible can escape from underneath the skin while cooking. If you have the time, place the pork in the freezer for an hour or so before scoring—it helps make easy work of it.
2 lb (905 g) piece skin-on, boneless pork belly
1 tsp (5 mL) olive oil
2 tsp (10 mL) salt, divided
1/2 tsp (2 mL) freshly ground black pepper
2 tsp (10 mL) ground coriander
1/2 tsp (2 mL) ground allspice
1/4 tsp (1 mL) ground ginger
1/2 cup (125 mL) ruby port
1/2 cup (125 mL) chicken stock
12 pitted prunes
1. Preheat oven to 350°F (180°C).

2. Place the pork belly skin-side up on a board; using a sharp paring knife (or a clean, razorsharp box cutter) and ruler, score the skin in 1/4-inch (5-mm) intervals, each 1/4 inch (5 mm) or so deep. Rub pork with olive oil.

3. Combine 1 tsp (5 mL) salt with pepper, coriander, allspice and ginger in a small bowl; rub all over flesh, avoiding the skin. Sprinkle remaining 1 tsp (5 mL) salt over skin.

4. Place on a rack set in a small roasting tin; roast for 2 hours.

5. Increase heat to 425°F (220°C) and cook 20 to 25 minutes longer or until skin has bubbled and crisped. Remove to a board.

6. Pour off fat from pan and discard; set pan over medium heat. Deglaze the pan with port, scraping up any brown bits; add chicken stock and prunes. Let boil 6 minutes to plump prunes and thicken sauce slightly; serve alongside roast.
SHARE