Red Wine Barbecue Sauce-Glazed Chicken
Autumn 2019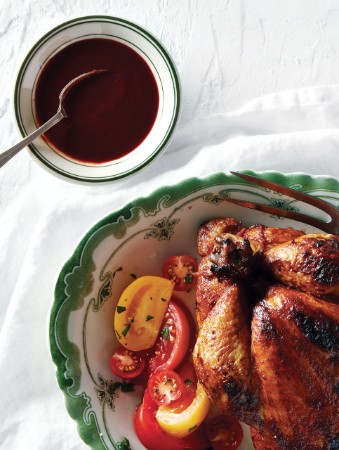 Red Wine Barbecue Sauce-Glazed Chicken
Autumn 2019
BY: Victoria Walsh
Red wine adds such depth of flavour to a barbecue sauce and makes it easy to tailor to your liking. For instance, you can incorporate smoky or fruit-forward notes depending on the wine you choose.
RED WINE BBQ SAUCE
1 tbsp (15 mL) olive oil
2 garlic cloves, minced
1 tbsp (30 mL) chili powder
1 cup (250 mL) red wine such as Cabernet Franc
¼ cup (60 mL) tomato paste
¼ cup (60 mL) red wine vinegar
¼ cup (60 mL) dark brown sugar
1 tbsp (15 mL) Dijon mustard
ROAST CHICKEN
1 tsp (5 mL) olive oil
3 to 4-lb (1.36 to 1.81 kg) whole chicken
Generous pinches of salt and freshly ground black pepper
1 Prepare sauce by coating a small saucepan with oil. Set over medium-low heat. Add garlic and chili powder. Cook, stirring constantly, until fragrant and garlic cooks slightly, about 1 minute. Slowly stir in wine. Increase heat to medium. Cook, stirring frequently until reduced by about half, about 15 minutes. Whisk in tomato paste, vinegar, brown sugar and mustard. Simmer, stirring often over medium-high heat until thickened to a barbecue sauce consistency, 15 to 20_more minutes. Cool completely.
2 Preheat oven to 400°F (200°C).
3 Rub oil all over chicken. Season with salt and pepper and rub all over. Place on a rack set on a baking sheet. Roast in centre of preheated oven for 20 minutes. Remove from oven. Pour a bit of sauce into a separate bowl. Use it to brush sauce all over chicken, into nooks and crannies too. You'll be basting throughout so be sure to pour a little barbecue sauce into a separate washed bowl and use a clean brush each time to avoid contamination. Continue roasting, basting every 20 minutes until cooked through, leg moves easily from joint, juices run clear, and an instant-read thermometer inserted into the thigh without touching the bone reads 165°F (74°C). This will take about 1 hour in total. Remove to a carving board. Loosely cover with foil. Let stand for 15 minutes. Carve into pieces before serving. Serve with any remaining barbecue sauce that has not been used for basting.


Makes 4 to 6 servings with 1 1/4 cups (310 mL) red-wine barbecue sauce
SHARE