Red Fruit Salad with Yogurt and Chocolate Granola
Summer 2020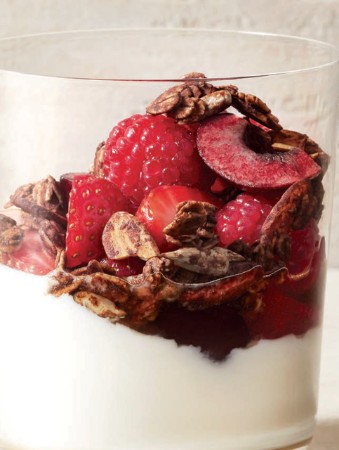 Red Fruit Salad with Yogurt and Chocolate Granola
Summer 2020
BY: Eric Vellend
A salad of orange-scented cherries and berries becomes a regal breakfast (or tasty dessert) with homemade chocolate granola and creamy yogurt. To avoid an expensive trip to the dentist, double check that you've successfully removed all the cherry pits before adding cherries to the salad.
CHOCOLATE-ALMOND GRANOLA
3 cups (750 mL) large-flake rolled oats
¾ cup (175 mL) sliced almonds
½ cup (125 mL) sunflower seeds
½ cup (125 mL) maple syrup
¼ cup (60 mL) canola oil
¼ cup (60 mL) cocoa powder, sifted
1 tsp (5 mL) pure vanilla extract
½ tsp (2 mL) fine sea salt (scant)
¼ cup (60 mL) granulated sugar
¼ cup (60 mL) water
½ tsp (2 mL) finely grated orange zest
4 cups (1 L) mixed hulled  and quartered strawberries, raspberries and pitted and halved cherries
1 ⅓ cups (330 mL) vanilla yogurt
1 For the granola, preheat oven to 300°F (150°C). Line a large rimmed baking sheet with parchment paper.
2 In a large mixing bowl, mix oats, almonds and sunflower seeds until In a small bowl, whisk maple syrup, oil, cocoa, vanilla and salt until smooth. Pour over oat mixture and mix until evenly coated. Transfer to prepared sheet and spread into an even layer. Bake on middle rack, stirring every 15 minutes, until nicely browned, 40 to 45 minutes. Remove from oven and cool completely. Transfer to an airtight container. Store in a cool, dry place up to 1 month.
3 In a small pot, heat sugar and water over medium-high he Stir until sugar is dissolved. Remove from heat and cool completely. Stir in orange zest. Let stand 10 minutes. Fine-strain into an airtight container, pressing on solids to extract syrup. (Discard solids.) Cover and refrigerate up to 1 week.
4 Place berries in a mixing Drizzle with syrup to taste, saving the rest for another use. Gently mix. Cover and refrigerate up to 24 hours. (The raspberries will get a little mushy after a day but will still be delicious.)
5 To serve, divide yogurt among 4 bowls or Divide fruit salad and sprinkle with some granola, saving the rest for another use.
SHARE