Raspberry & Toasted Coconut Bars
Temps des Fêtes 2012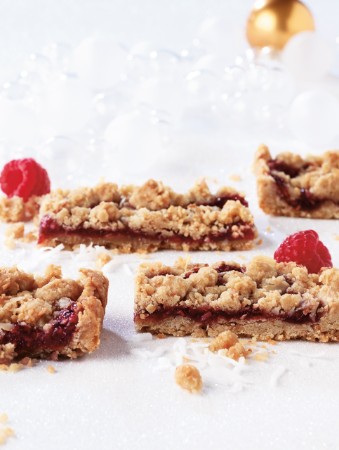 Raspberry & Toasted Coconut Bars
Temps des Fêtes 2012
BY: Eshun Mott
The secret to these tasty bar cookies is lots of toasted coconut. An excellent nut-free addition to any holiday baking tray, they are so easy to put together they will quickly become part of your year-round baking repertoire.
1½ cups (375 mL) shredded unsweetened coconut
1½ cups (375 mL) all-purpose flour
¾ cup (175 mL) packed dark brown sugar
1 tsp (5 mL) salt
¾ cup (175 mL) unsalted butter
½ cup (125 mL) rolled oats (not quick cooking)
1 cup (250 mL) good quality raspberry jam
1 Preheat oven to 350°F (180°C).

2 Line a 9 x 13-inch (23 x 33-cm) baking pan with parchment paper. Set aside.

3 Spread coconut in an even layer on a baking sheet and bake for 5 to 6 minutes or until lightly golden. Set aside.

4 Combine flour, sugar, salt and butter in a food processor or by hand until all the dry ingredients have been absorbed and mixture begins to come together into a dough. Add oats and toasted coconut and pulse or work until just combined. Sprinkle all but 1½ cups (375 mL) of dough into prepared pan and use your fingers to press dough into an even layer of crust with just a slight lip up at the edges. Spread jam in an even layer on top of dough. Crumble remaining dough over raspberry layer.

5 Bake for 35 minutes or until jam is bubbling all over, bars are golden and cooked through. Cool completely, pull on parchment paper to remove bars from pan and cut into 24 squares. Will keep, well wrapped, for 1 week at room temperature.
SHARE