Ramos-Inspired White Hot Chocolate
Winter 2018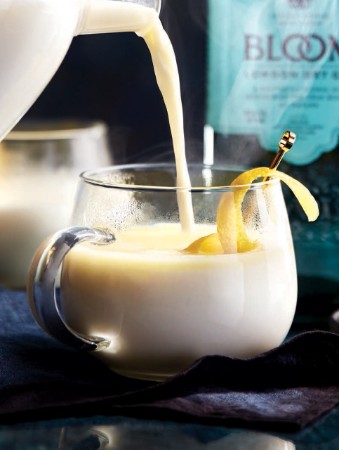 Ramos-Inspired White Hot Chocolate
Winter 2018
BY: Victoria Walsh
Traditional ingredients of a Ramos Gin Fizz— lemon, lime, cream, orange blossom and, of course, gin—blend wonderfully in this sweet and simple white hot chocolate.
1 lemon
1 lime
6 oz (175 g) good-quality white chocolate, finely chopped
1½ cups (375 mL) homogenized milk
½ cup (125 mL) whipping cream
2 tbsp (30 mL) granulated sugar
¼ tsp (1 mL) orange blossom water or 3 dashes orange bitters
3 oz gin, preferably floral
1. Pull 3 strips of peel (zest) from lemon, avoiding white pith. Repeat with lime. Add all peel along with chocolate, milk, cream and sugar to a small saucepan. Set remaining lemon aside for garnish.

2. Set pan over medium heat. Gently heat, whisking occasionally, until milk is steaming but not boiling and chocolate is melted and incorporated, about 9 minutes. Adjust heat, if needed. When chocolate is incorporated, remove from heat. Carefully remove and discard lemon and lime strips. Stir in orange blossom water.

3. Pour 1 oz gin into a heatproof mug. Repeat with 2 more glasses. Slowly pour and divide prepared hot chocolate between glasses. If you like, pull 3 more strips of peel from lemon (avoiding bitter white pith). Garnish each cocktail with a lemon twist. Serve warm.
SHARE