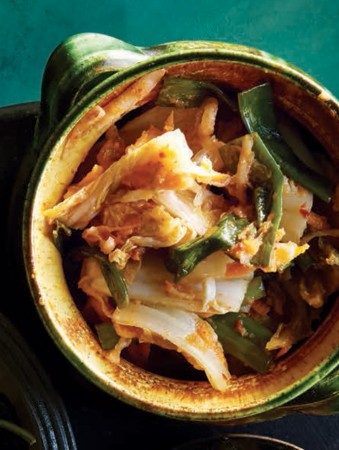 BY: Lucy Waverman
There is something satisfying about making your own kimchi. Once you have it down pat you can change the vegetables and the seasonings while using similar methods. Kimchi can also be purchased at most Asian stores so you don't have to make it yourself. Thanks to Chef John Lee at George Brown College for this recipe; measurements do not need to be too accurate. It is the method that is important.
4 cups (1 L) water
½ cup (125 mL) kosher salt
About 1 lb (500 g) napa cabbage cut into 2 inch (5 cm) pieces, about 12 cups (3 L)
2 large Granny Smith apples, unpeeled, grated
¼ cup (60 mL) grated onion
1 tbsp (15 mL) peeled and chopped ginger
1 tbsp (15 mL) chopped garlic
⅓ cup (80 mL) rice wine vinegar
¼ cup (60 mL) fish sauce
6 green onions, cut into 2 inch (5 cm) pieces
1½ cups (375 mL) grated daikon radish, about ½ lb (250 g)
1½ cups (375 mL) grated carrot, about ½ lb (250 g)
2 tbsp (30 mL) Korean chili powder
1 tbsp (15 mL) gochujang
1 tbsp (15 mL) toasted sesame oil
1. Bring water and salt to a simmer in a large pot and stir to dissolve. Remove from heat and stir in cabbage pieces until submerged. Brine for 1 hour.

2. Blend apple, onion, ginger and garlic until smooth in a blender or food processor. Add rice wine vinegar and fish sauce and blend until combined. Transfer apple mixture to a large bowl. Stir in green onions, radish, carrot, chili powder, gochujang and sesame oil. Reserve.

3. Drain and rinse cabbage. Squeeze out excess moisture, then pat dry with paper towel.

4. Add brined cabbage to apple mixture and mix thoroughly with your hands. It helps to bring out the flavours.

5. Place kimchi in a container, seal and eat the next day. Kimchi lasts for at least a month, refrigerated.
Makes about 6 cups (1.5 L)
SHARE