Prosecco Punch with Persimmons
Holiday 2014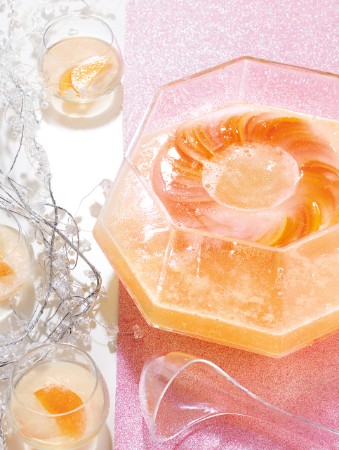 Prosecco Punch with Persimmons
Holiday 2014
BY: Victoria Walsh
Take advantage of the subtle and luxurious flavour of persimmons while they're in season by infusing them in vodka and syrup. The preparation requires bit of extra time and planning but this spectacular punch allows you to get ahead and avoid the juggle of making up cocktails while entertaining guests.This recipe can be easily doubled.
6 persimmons
½ cup (125 mL) granulated sugar
½ cup (125 mL) water
1 cup vodka
5 cups (1.25 L) distilled water
1 to 2 lemons
4 oz (125 mL) brandy
1 bottle (750 mL) chilled Prosecco
2 cups (500 mL) chilled club soda
2 persimmons for garnishing glasses (optional)
1 Prepare simple syrup by peeling then chopping 1 persimmon. Place in a saucepan along with sugar and ½ cup (125 mL) water. Set over medium heat. Cook until sugar dissolves. Remove from heat. Refrigerate for 2 days. Strain off pulp, then fine strain through a coffee filter or many layers of cheesecloth. Syrup will keep well, covered and refrigerated, for up to 2 weeks.

2 Prepare persimmon infusion by peeling then chopping 2 persimmons. Place in a jar. Cover with vodka. Seal jar. Let stand in a cool dark place for 2 days. Shake occasionally. Strain off pulp, then fine strain through a coffee filter or many layers of cheesecloth. Infusion will keep well in a sealed jar for up to 1 month.

3 Prepare an ice ring by thinly slicing 3 persimmons. Cut slices in half. Arrange overlapping slices in bottom of a small Bundt pan (that is no larger than your punch bowl). Carefully pour distilled water into Bundt pan until partially filled. Freeze for 1 to 2 days until solid. Ice ring will keep well, frozen, for at least 2 weeks.

4 An hour or 2 before serving, pour syrup and infusion into a punch bowl. Squeeze and strain 2 tbsp (30 mL) lemon juice and add to punch mixture along with brandy. Refrigerate for 1 hour until chilled. Just before serving, slowly pour in both Prosecco and soda. Add ice cube ring. Garnish each glass with a slice of persimmon, if desired. Serve immediately.
SHARE