Primavera Caesar
JUNE 2017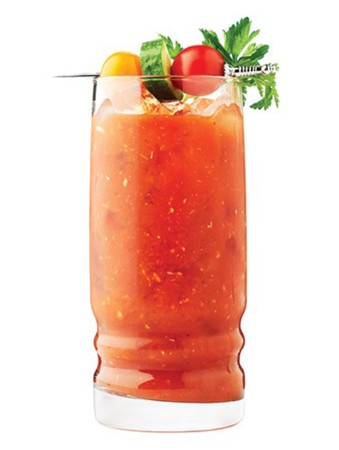 Primavera Caesar
JUNE 2017
¼ cup cucumber, peeled and chopped
¼ cup celery, chopped
1 tsp horseradish
Dash each Tabasco® and Worcestershire
Juice of ⅛ fresh lime
1½ oz Tito's Vodka
4 oz tomato juice  
Pinch of salt and pepper
Cilantro sprig and cherry tomato
1. To a cocktail shaker, add cucumber, celery, horseradish, Tabasco®, Worcestershire and lime juice. Muddle.

2. Fill the shaker with ice and vodka. Shake sharply and strain into a highball glass with ice.

3. Top with tomato juice, salt and pepper.

4. Garnish with a sprig of cilantro and cherry tomato on a skewer.
SHARE