Poppy Seed Sablés
Holiday 2020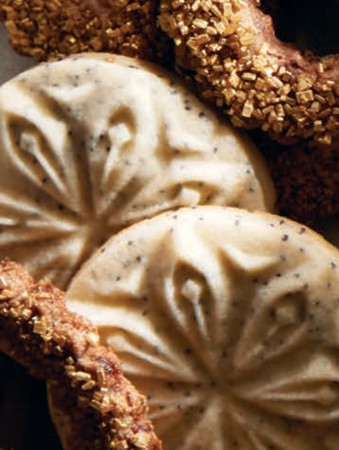 Poppy Seed Sablés
Holiday 2020
BY: Michelle Lucas Larving
The sanding method (where all dry ingredients are combined before being blended with butter) is used to give these cookies their crumbly texture: it's essential the butter is cold to get it right. To give the cookies a more finished look, a round cutter can be used after stamping for clean and crisp edges.
3 cups (750 mL) all-purpose flour
1 cup (250 mL) icing sugar
3 tbsp (45 mL) poppy seeds
1 tsp (5 mL) fine sea salt
1/2 tsp (2 mL) freshly grated nutmeg
1½ cups (375 mL) cold unsalted butter, diced
1 egg
1½ tsp (7 mL) vanilla
1. Arrange racks in top and bottom thirds of oven. Preheat to 325°F (160°C). Line 2 baking sheets with parchment.

2. Using a stand mixer fitted with the paddle, combine flour with sugar, poppy seeds, salt and nutmeg. Add butter and blend on low speed until mixture resembles coarse sand, 3 to 4 minutes. Beat in egg and vanilla, just until a dough forms.

3. Roll into smooth 2-tbsp-sized (30-mL) balls, setting 6 on each prepared baking sheet. Dust a 3-inch (8-cm) cookie stamp in flour, tapping off the excess. Press stamp firmly into the centre of each ball, flattening until the cookie fills the edges of the stamp. Using a round cookie cutter slightly smaller in size, cut around edges to trim, if desired.

4. Bake in top and bottom thirds of oven, switching sheets halfway through, until cookies have set, 16 to 18 minutes. Let cool on baking sheets for 5 minutes. Transfer to a rack and let cool completely, 20 more minutes. Repeat with remaining dough.
SHARE