Plum and Feta Tart
Autumn 2016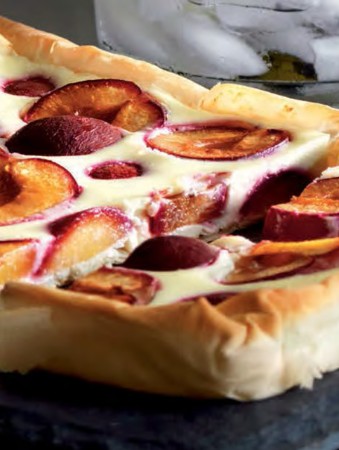 Plum and Feta Tart
Autumn 2016
BY: Monda Rosenberg
This will be the prettiest and healthiest plum tart you will ever serve. If there are any leftovers, don't hesitate to snack away or have some at lunch, since it is not only protein-rich but filled with prime fruit, yogurt and cheese.
6 sheets of phyllo pastry
3 tbsp (45 mL) melted butter
6 ripe red plums
1 cup (250 mL) plain Greek yogurt or sour cream (5% MF)
2 eggs
¼ cup (60 mL) all-purpose flour
¼ cup (60 mL) granulated sugar
1 cup (250 mL) crumbled feta
3 tbsp (45 mL) honey or maple syrup
1 Preheat oven to 375°F (190°C).

2 For crust, lay 1 sheet of phyllo on an oiled 9 x 13-inch (23 x 33-cm) baking sheet with shallow sides. Brush with some of the melted butter. Lay another sheet of phyllo on top, matching the corners as best you can. Brush with more butter. Continue layering and butteringuntil there is a stack of 6 sheets. Do not butter the top sheet.

3 To form a pastry edge, tightly fold up one long side of phyllo until an edge is formed just inside the pan side. Repeat with the other long side, then the short sides. Tuck in the corners. Brush top of pastry edges with butter.

4 Slice 1 plum in half following the indented line on one side. Holding half the plum in one hand, use your other hand to gently rotate the2 halves apart. Remove pits and discard. Slice each half into 2 oval pieces, 1 having a border of skin all around, the other having skin covering an entire side. Repeat with remaining plums.

5 In a blender, combine yogurt, eggs, flour, sugar and feta. Pulse and whirl until smooth, stopping occasionally to scrape down sides. Pour into phyllo crust. Brush 1 piece of plum all over with honey; then place, cut-side down, in the filling. Repeat with remaining plums.

6 Bake at 375°(190°C) for 25 to 30 minutes, until crust is golden and the filling seems set when jiggled. Serve in squares. Best to serve the day it is made.
SHARE