Pizza with Smoked Salmon & Canadian Caviar
Hiver 2015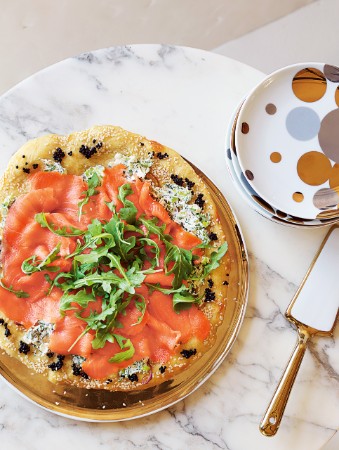 Pizza with Smoked Salmon & Canadian Caviar
Hiver 2015
BY: Amy Rosen
With its thin, sesame-flecked crust and elegant layers of smoked salmon and caviar, this easy pizza is worthy of a top hat and tails.
½ cup (125 mL) cream cheese
1 chopped green onion
2 tbsp (30 mL) capers
2 tbsp (30 mL) freshly chopped fresh dill
¼ tsp (1 mL) chili flakes
1 ball pizza dough, 23 oz (650 g)
Flour for rolling dough
2 tbsp (30 mL) olive oil, divided
2 tbsp (30 mL) sesame seeds, divided
¼ cup (60 mL) thinly sliced red onion, divided
5 oz (150 g) thinly sliced smoked salmon
1 cup (250 mL) baby arugula, divided
1 jar Canadian caviar (1¾ oz), as frugal as salmon roe to as ritzy as Canadian sturgeon such as Northern Divine, which is OceanWise
1 In a small bowl, combine cream cheese with green onion, capers, dill and chili flakes. Set aside.

2 Preheat oven to 425°F (220°C)

3 Divide dough into 2 equal balls. Dust counter with flour and roll out into 2 rounds, each about 12 inches (30 cm) in diameter. Place on oiled pizza pans. Brush olive oil over both pizzas, and sprinkle sesame seeds around the edges of pizzas, pressing gently so they stick. Scatter red onion over both pizzas. Bake in preheated oven for 15 to 20 minutes or until golden brown.

4 While still warm, spread cream cheese mixture over the inner circle of pizzas. Arrange the slices of salmon so that they cover both pizzas. Scatter arugula over the salmon. Using a pizza cutter or a large sharp knife, cut each pizza into 8 slices. Spoon a little caviar on the crust edge of each slice. Serve immediately.
SHARE