Pizza Margherita with Arugula
Début de l'été 2011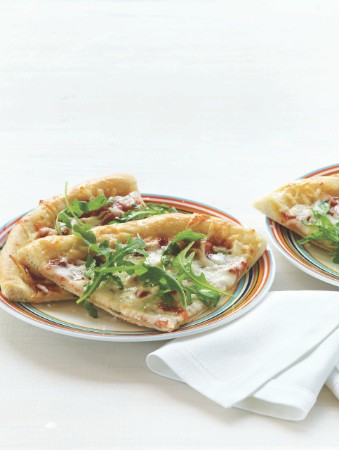 Pizza Margherita with Arugula
Début de l'été 2011
BY: Marilyn Bentz-Crowley
This is last-minute pizza with a thin crispy crust—from a home oven! The dough has little rise before baking and can't be stretched although it pats out very easily. Cypriot halloumi cheese (various spellings include President's Choice halloom) is unique as it browns beautifully with a full flavour but does not melt! Locavores note, Upper Canada Cheese Company makes Guernsey Girl that is similarly delicious.
4 tsp (20 mL) olive oil
1 large garlic clove, crushed with side of knife
1 can (796 mL) tomatoes, preferably San Marzano type
1¾ to 2 cups (425 to 500 mL) all-purpose flour
1 cup (250 mL) cake and pastry flour
1 envelope (8 g) or 2¼ tsp (11 mL) instant or bread machine dry yeast
1 tsp (5 mL) salt
1¼ cups (300 mL) very warm water
6 to 8 large fresh basil leaves, chopped
6 tbsp (90 mL) freshly shredded Parmesan cheese
1½ cups (375 mL) shredded mozzarella cheese
¾ cup (175 mL) shredded halloumi or Guernsey Girl cheese
2 cups (500 mL) lightly packed baby arugula
Pinches of coarse salt
1. Combine oil and largely intact garlic in a small dish; set aside. Place tomatoes in sieve over a large bowl to catch juices. Split open tomatoes to assist in draining; drain 15 to 30 minutes. Then chop; also set aside. ( Juices can be frozen for use in a different recipe.)

2. To make dough, stir 1¾ cups (425 mL) all-purpose flour with cake flour, yeast and salt in a mixer fitted with a dough hook; make a well in the centre. Add water. (Water should be very warm to the touch like bath water.) Mix on medium speed until all flour is incorporated into dough; add remaining flour as needed to have soft, slightly sticky dough. Alternatively, mix by hand. Turn out on well-floured surface. Let rest, covered, for 10 minutes.

3. Arrange 1 oven rack on the lowest level (or 1 above the lowest level if oven element is exposed). Preheat to 450°F (230°C). Meanwhile use nonstick oil spray to coat three pizza or baking pans large enough to fit pizza dimensions in step 4.

4. Divide dough into thirds. Gently shape dough into a round or rectangle about half the size needed; place on pans. Pat out each third into 11-inch (28-cm) rounds or 9 x 12-inch (23 x 30-cm) rectangles. Form a small rim around edges. (TIP: this pizza dough does not stretch due to low protein content.).

5. Dividing all toppings among 3 pizzas, scatter tomatoes over dough, avoiding rim. Scatter basil, Parmesan cheese and mozzarella over tomatoes. Lightly scatter with halloumi cheese, including a bit on rim. Remove and discard garlic from oil. Drizzle each pizza with about 1 tsp (5 mL) of garlicky oil. Toss arugula with remaining oil.

6. Immediately place pizza on lowest rack, baking in batches as needed. Bake 10 minutes; use a spatula to turn up 1 corner of the dough to check for browning. Continue baking for another few minutes as needed. When nicely browned, slide pizza off pan and onto a cooling rack. Scatter each with pinches of salt and about a third of the arugula. Cut into wedges with scissors; serve immediately.
Makes 3 thin-crust pizzas and serves 3 to 4
SHARE