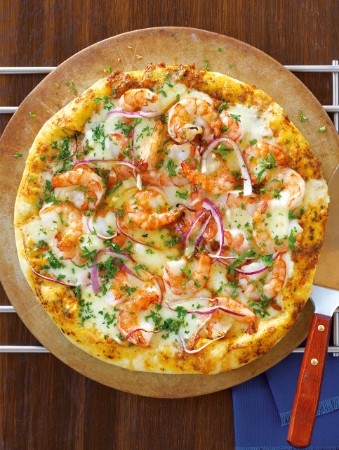 BY: Marilyn Bentz-Crowley
A handy Italian bakery may be all that you need for homemade pizza, as a "pound" bag of dough is quite inexpensive. Fresh dough, whether homemade or purchased, is far better than a pre-baked crust, but use the latter (following package instructions) if pressed for time. However, if preference or location means you will be making dough, here are some variations to try (recipes follow). There's no need to have a special pizza pan, as assorted baking pans or cookie sheets are fine; however do not use a "doubled" cookie baking sheet as this inhibits browning on the bottom crust. A dark pan produces a better crust and heavy-gauge steel limits burning. Canadian Paderno brand is widely available and makes inexpensive dark-steel pans that are both hefty and nonstick. As a rule of thumb, a pound of dough makes 2 thin-crusted 12-inch (30-cm) round pizzas, or 1 medium-crusted pizza on a 12 x 16½-inch (30 x 41-cm) pan known to chefs as a "half-sheet" or 1 thick-crusted pizza on a 10 x 15-inch (25 x 38-cm) pan called a jelly-roll pan. A thick-crust pizza requires only about two-thirds of the sauce and toppings needed for others.
Basic Dough
1 to 2½ tsp (5 to 12 mL) bread machine or instant dry yeast
2½ to 3 cups (625 to 750 mL) bread (hard) flour or all-purpose flour
1 tsp (5 mL) salt
1¼ cups (300 mL) water
1 tbsp (15 mL) olive oil
1. To make dough in bread maker, use 1 tsp (5 mL) bread machine yeast and 2½ cups (625 mL) flour. Layer into canister along with salt, water and oil, using manufacturer's directions; use dough mode. (Use the programming device so the dough is ready at suppertime.) Check at the beginning of the cycle. If dough seems too wet to form a soft ball, add some flour and if already a firm ball, add some water. When cycle is finished, place dough on oiled pans. Let rest 10 minutes, then pat out.

2. To make dough by hand, stir 2½ tsp (12 mL) yeast with 2½ cups (625 mL) flour and salt in a large mixing bowl; make a well in the centre. Set remaining flour aside for use in kneading. Add water and olive oil. (Water should be very warm to the touch, like bath water.) Stir until all flour is incorporated into dough. If dough seems too wet, add some flour and if too dry, add some water. Turn out on floured surface. Knead 8 to 10 minutes using small amounts of remaining flour as needed to keep the dough from sticking. Place dough ball on oiled pizza pan; flip over so dough is coated with oil. Let rest, uncovered, 10 minutes―this is the first "rise."

3. Arrange oven racks with one on the lowest level and one on the upper level.

4. Preheat oven to 475°F (240°C). Pat out dough in oiled pan(s); form a rim around edges. Spread with sauce; then sprinkle with toppings. Let rise, uncovered, for 10 to 20 minutes until dough has almost doubled in thickness.

5. Place pizza on lowest rack. Bake 5 to 10 minutes. Use a spatula to turn up one corner of the dough to check for browning. When nicely browned, move pizza to top rack for 5 to 8 minutes or until top is golden. Ovens with exposed heating elements brown crust fastest so watch carefully; then adjust baking times for future pizzas to suit your individual oven.)

VARIATIONS

Extra Crispy:
Add ¼ cup (50 mL) fine cornmeal to water; let soak at least 15 minutes before making dough to prevent graininess in baked crust.

Spelt:
To add a whole-grain flavour, substitute 1 cup (250 mL) spelt flour for same amount of bread flour. Spelt is ancient, low-yield wheat popular in Europe and has a fine, almost nutty, taste.

Cornmeal:
Soak 1 cup (250 mL) fine cornmeal in 1 ¼ cups (300 mL) water for 15 minutes. Reduce bread flour to 2 cups (500 mL). Use a bread machine or mixer with dough hook to keep dough extra-moist.

Pizza stone:
To replicate a pizzeria oven, buy a ceramic "stone" or enough unglazed tiles to snugly line oven rack. Long cotton sleeves and long oven mitts prevent burns when using this technique. Place stone or tiles on lowest rack; preheat oven to 475°F (240°C) at least a half hour ahead of baking. Make a pizza with a medium to thick crust for easier handling until you become proficient. Place prepared pizza in pan or baking sheet on heated ceramic area. Bake 5 to 10 minutes; then peek at bottom. If somewhat browned and stiff enough to lift, remove pizza from oven. Loosen pizza completely, open oven and slide pizza minus pan onto hot stone. Continue baking another 5 minutes or until bottom is richly browned. Position original pan or a wooden peel next to pizza and slide on baked pizza. To preserve crispy bottom, slide onto a cooling rack; cut pizza with kitchen shears.
SHARE