Pizza Bianca
Temps des Fêtes 2017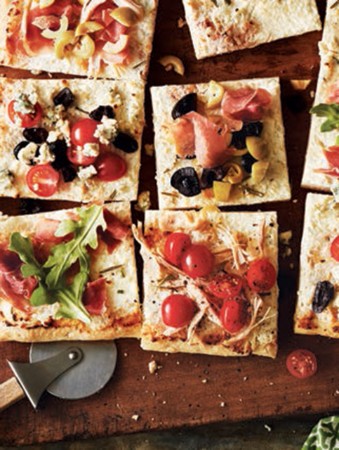 Pizza Bianca
Temps des Fêtes 2017
BY: Tonia Wilson-Vuksanovic
Letting your guests pick their own toppings makes serving this Pizza Bianca, or white pizza, fun and interactive. When the pizza comes out of the oven, cut it into 12 equal pieces and allow people to finish theirs off with a variety of delicious toppings. If you prefer not to make the base from scratch, a ball of store-bought pizza dough can be used. If using, start at Step 3.
1¾ tsp (9 mL) instant dry yeast
¼ cup plus 1½ cups (60 mL plus 375 mL) warm water
3½ cups (875 mL) all-purpose flour, plus extra for dusting
1 tsp (5 mL) salt for dough plus ¼ tsp (1 mL) for ricotta mixture
5 tbsp (75 mL) olive oil, divided
1 cup (250 mL) ricotta cheese
1 oz (30 g) Parmigiano-Reggiano cheese, finely grated, about 1 cup (250 mL)
1 tsp (5 mL) fresh rosemary leaves

TOPPING SUGGESTIONS
1½ cups (375 mL) shredded roast chicken
15 slices good-quality prosciutto
1½ cups (375 mL) cherry tomatoes, halved lengthwise
1½ cups (375 mL) fresh arugula
½ cup (125 mL) black olives, pitted and coarsely chopped
½ cup (125 mL) favourite blue cheese
1. In the bowl of a stand mixer, stir together yeast and ¼ cup (60 mL) warm water. Leave for a few minutes until it begins to lightly foam (this means the yeast is working).

2. Add to the bowl the flour, 1 tsp (5 mL) salt and remaining 1½ cups (375 mL) warm water. Using the dough paddle, stir ingredients together on low speed for 2 minutes. Then add 1 tbsp (15 mL) olive oil and continue working the dough for another 3 minutes. Remove dough from hook, place back in bowl and cover bowl with plastic wrap or tea towel. Allow dough to rise in a warm place for 2 hours, or until doubled in size.

3. Preheat oven to 500°F (260°C).

4. Brush an 18 x 13-inch (45 x 33-cm) baking sheet with 2 tbsp (30 mL) olive oil.

5. Dust rolling pin and work surface with some flour and gently roll dough to lengthen. Roll dough into a rectangular form, place on greased sheet and continue spreading it with your fingers, trying not to tear the dough. As the dough relaxes it will become easier to spread. Make sure the entire sheet is covered. If it tears, pinch it back together.

6. Brush dough with 1 tbsp (15 mL) olive oil, and press about 30 dimples into dough with fingertips.

7. Mix together ricotta, remaining ¼ tsp (1 mL) salt and remaining 1 tbsp (15 mL) olive oil. Spread ricotta mixture on top of pizza. Sprinkle with Parmigiano-Reggiano, rosemary leaves and an additional sprinkling of salt.

8. Bake on the middle rack in preheated oven for 10 minutes or until cheese and bottom of pizza are both light golden.

9. Let cool slightly before cutting into 12 pieces. Serve with suggested toppings for guests to choose what they like.
SHARE