Pineapple Habanero Margarita Paleta
Summer 2016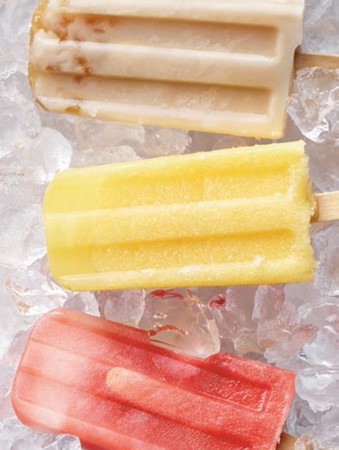 Pineapple Habanero Margarita Paleta
Summer 2016
BY: Heather Trim
The inspiration for this paleta began with a vacation recommendation to Sayulita, Mexico (a colourful surf town), from Catherine MacFadyen.Catherine and her husband Sandy are the owners of Reposado, a tequila bar in Toronto that has the most extensive tequila collection in the city. She has visited the surrounding areas of Sayulita in search of unique tequilas. When I was there, I found incredible paletas with flavours from salted caramel to the ubiquitous creamy coconut. Eating them became a twice daily affair for me—they were that good!
1/3 cup (80 mL) water
1/3 cup (80 mL) granulated sugar
1 lime
1 small seeded red habanero pepper, finely minced, about 2 tsp (10 mL)
4 cups (1 L) chopped pineapple, about three-quarters of a small pineapple
¼ cup (60 mL) white tequila
¼ tsp (1 mL) kosher salt
1 Place water and sugar in a small saucepan. Using a vegetable peeler, peel 4 wide strips of lime peel and add to saucepan. Squeeze juice from lime and reserve; you should have at least 2 tbsp (30 mL). If you want a kick to your paletas, add all of the habanero. For lessof a kick add 1½ tsp (7 mL). Set saucepan over medium heat and bring to a boil. Remove from heat and let stand, stirring occasionally,about 30 minutes, to infuse flavour. Strain liquid through a fine meshed sieve into a bowl, pressing with the back of a spoon to extract all the liquid. Discard habanero and lime peel. Add reserved lime juice to syrup.

2 Add pineapple, lime syrup, tequila and salt to blender. Whirl until smooth.

3 Pour into popsicle moulds. Freeze until firm, at least 4 hours.
Makes 3 cups (750 mL), 8 to 12 paletas
SHARE