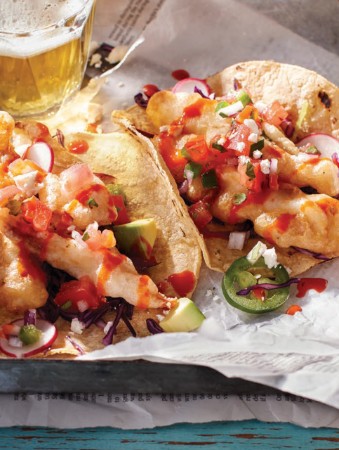 BY: Victoria Walsh
Here, mild and sweet-tasting perch is battered, fried and puffed into delicious Baja-style fish tacos. These are the summer fish tacos you've been dreaming of—probably without even realizing you've been missing the perch. This recipe riffs off the tasty tacos that you can enjoy at Birdie's Perch (Bustaurant & Takeaway) in Leamington, Ont.
1 ½ cups (375 mL) all-purpose flour
1 ½ tsp (7 mL) baking powder
1 ½ tsp (7 mL) salt
Generous pinches of pepper
1 ½ cups (375 mL) club soda
Vegetable oil to coat pan and approximately 4 cups (1 L) for frying
12 fresh, small corn tortillas
1 lb (455 g) fresh yellow perch, skinned and boned, cut into strips
1 ½ to 2 ¼ cups (375 to 560 mL) Pico de Gallo (recipe below)
1 cup (250 mL) crema fresca or sour cream
Lime wedges, for squeezing overtop
Toppings (see below)
1 Using a fork, mix flour with baking powder, salt and pepper in a shallow dish. Slowly stir in club soda until incorporated. It's okay if small lumps remain—it should look like pancake batter.

2 Lightly coat a large frying pan with oil and set over medium heat. Working in batches, add 1 or 2 tortillas. Heat until soft, turning halfway through, about 1 minute. To keep warm, stack and wrap tortillas in a kitchen towel sealed with foil.

3 Partially fill a large deep skillet with oil until 1 inch (2.5 cm) deep. Heat over medium until a deep-fry thermometer reaches 350°F (180°C). Or dip a wooden spoon or chopstick in oil; you'll know the oil is ready when it begins to steadily sizzle around the wood. Adjust heat, as needed.

4 Working in batches, dip fish pieces in the batter. Using tongs, very carefully add to oil. Cook, turning with tongs or a slotted spoon until batter is crisp and deep golden, about 5 minutes. Carefully transfer to a paper-towel-lined baking sheet.

5 Tacos are best-enjoyed family-style with all the prepared ingredients—fried fish, Pico de Gallo, crema fresca, lime wedges and a mix of toppings—served right at the table so everyone can load up just before eating.
Pico de Gallo
Fresh homemade salsa is the key to making a taco really great! The amounts and ingredients are pretty flexible, so taste and adjust to make it your own.

2 tomatoes, seeded and finely chopped
½ red onion, finely chopped
1 cup (250 mL) chopped cilantro
1 jalapeño, finely chopped
¼ lime
Drizzle of extra virgin olive oil (optional)
Pinch of salt
Stir tomatoes, onion, cilantro and jalapeño in a small bowl. Squeeze lime juice overtop. Drizzle with olive oil and sprinkle with salt. Taste and adjust seasoning and lime juice, as you like.
Makes 2 1/4 cups (560 mL) for 12 tacos
TACO TOPPINGS
Get creative and use any combination of these toppings, adding in any other family favourites.
A handful of shredded red or green cabbage, about ⅛ cabbage
Hot sauce such as Cholula
1 avocado, chopped
A handful of microgreens such as radish sprouts or pea shoots
Crumbled Cotija or feta cheese
4 thinly sliced radishes
SHARE