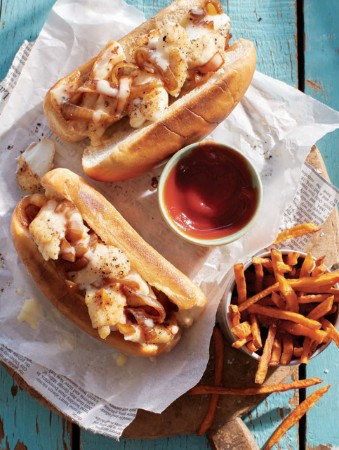 BY: Victoria Walsh
An iconic sandwich that is Ontario's answer to the lobster roll. This recipe doesn't pretend to be the real deal—you'll have to visit Cornwall, Ont., or nearby Lancaster, Ont., for that. Instead, enjoy a roll based on the famous formula—buttery lake perch, warm and tangy mayo-style sauce and golden onions (optional) all squeezed into a griddled hot-dog-style bun—which you can recreate right at home.
¼ cup (60 mL) all purpose flour
2 tbsp (30 mL) butter, divided
2 squishy hot-dog buns, classic or even brioche-style
Generous pinches salt and pepper
½ lb (225 g) fresh yellow perch, skinned and boned
Warm Creamy-Tangy Perch Sauce (recipe below)
Caramelized Onions (recipe below)
1 Place flour in a shallow dish. Using about 1 tbsp (15 mL) butter, spread over exterior, cut-sides of each bun (the sides where the buns pull apart). Set a small frying pan over medium heat. Toast buns in pan, 1 to 2 minutes per side.

2 Meanwhile, melt remaining butter in large frying pan set over medium-high heat, swirling to coat. Season perch. Dip perch in flour and add to pan. Cook until golden and cooked through, 2 to 3 minutes per side. Delicious served with Baked Sweet Potato Fries (recipe on page 154).
Warm Creamy-Tangy Perch Sauce
Based on a very old-school, hot-dressing formula, this recipe is a twist on Ontario perch roll sauce. The result is less sweet than its muse, but it's still lusciously creamy, refreshingly tangy and zingy from all the mustard.

2 tbsp (30 mL) all-purpose flour
1 ½ tsp (7 mL) dry mustard
¾ tsp (4 mL) salt
½ cup (125 mL) cold water
1 large egg
3 tbsp (45 mL) white vinegar
2 tbsp (30 mL) freshly squeezed lemon juice
2 tbsp (30 mL) granulated sugar

1 Fit a bowl over a small saucepan partially filled with water so the bowl is not touching the water. Remove bowl. Bring water to a simmer.

2 Meanwhile, in the fitted bowl, whisk flour with mustard powder and salt. Slowly whisk in water. Add egg and whisk until incorporated. Slowly whisk in vinegar and lemon juice, then sugar.

3 Adjust heat as needed so water is gently simmering and not boiling. Set bowl with mixture over simmering water. Whisking constantly and being careful not to scramble, cook egg mixture until thickened, about 3 minutes. Serve warm. If making ahead, sauce will keep well, covered and refrigerated for up to 2 days. Bring to room temperature just before topping the warm fish and serving.
Caramelized Onions
Follow these steps for no-fail caramelized onions every time.

3 cooking onions
3 tbsp (45 mL) each butter and olive oil
Pinch salt
2 tbsp (30 mL) water

1 Cut each onion in half lengthwise, slicing through root end. Place onions cut-side down on a cutting board, then thinly slice into semicircles.

2 Heat butter and oil in a medium-size frying pan set over medium heat. Add onions, separating as you add to pan. Sprinkle with salt. Reduce heat so onions are gently cooking but not frying. After about 10 minutes, when onions are just beginning to soften and caramelize, deglaze pan by stirring in water and scraping up any brown bits from pan bottom. Continue cooking, stirring often, until caramelized, about 30 minutes.
SHARE