Peanut Butter, Banana & Cinnamon Energy Bites
Printemps 2020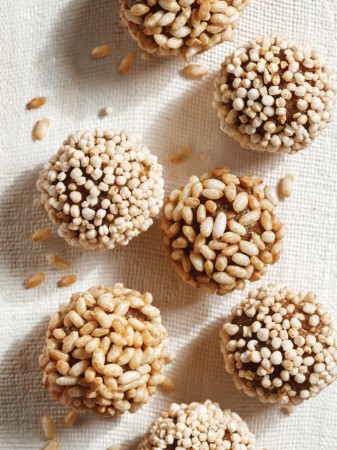 Peanut Butter, Banana & Cinnamon Energy Bites
Printemps 2020
BY: Marcella DiLonardo
What makes these energy bites special is the combination of textures. The addition of puffed rice makes for a much lighter consistency compared to your average protein ball. The puffed rice also adds a little crunch to each bite. The banana brings a natural sweetness to the filling, making this recipe a great low-added sugar alternative. Use the ripest banana you can get your hands on; the riper the banana, the sweeter the result!
1 large ripe banana, mashed
¾ cup (175 mL) natural creamy peanut  butter
¼ cup (60 mL) pure maple syrup 1 tsp (5 mL) pure vanilla extract 1⁄4 cup (60 mL) hemp hearts
½ teaspoon (2 mL) ground cinnamon
pinch sea salt
cups (500 mL) brown rice puffs or puffed quinoa, plus more for rolling
1 Place banana, peanut butter, maple syrup, vanilla, hemp hearts, cinnamon and sea salt in a food processor. Blend until mixture begins to come together, about 60 seconds. Add puffed rice and pulse a few times. Refrigerate for 30 minutes to firm.
2 Shape mixture into 15 bite-sized Roll each ball in puffed rice.
3 Refrigerate until ready to e Store in an airtight container for up to a week.
SHARE