Peach Bourbon Blizzard
Summer 2020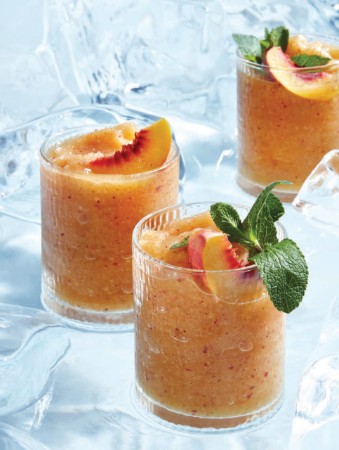 Peach Bourbon Blizzard
Summer 2020
BY: Eric Vellend
The winning combination of sweet peaches and bold bourbon hits the blender for a simple summer sipper. Optionally add 3 tbsp (45 mL) chopped mint just before blending and take it into frozen Julep territory. It's the perfect start to any backyard meal, especially if American style barbecue is on the menu.
4 oz bourbon
6 oz peach nectar
1½ oz Simple Syrup
1½ oz fresh lemon juice
1 cup (250 mL) frozen peach slices
Peach slices and mint sprigs to garnish
Short straws, preferably reusable (not metal) or compostable


1 Pour bourbon, peach nectar, Simple Syrup and lemon juice into an airtight container. Freeze overnight and up to 3 days.

2 Place 2 lowball glasses or 250-mL Mason jars in freezer for at least 30 minutes.

3 Place drink mixture and frozen peaches in blender. Blend, stopping to scrape down bowl several times to get things moving. Once there are no big chunks of peach, gradually raise speed to high to get it smooth. Divide among chilled glasses with a spoon. Garnish with peach slices and mint sprigs. Serve with straws.


SIMPLE SYRUP
Bring 1 cup (250 mL) water to a boil and stir in 1 cup (250 mL) refined white sugar until dissolved. Pour into jar and let cool. If storing, cover and refrigerate. Remaining syrup will keep in the fridge for up to a month.

Makes 1½ cups (375 mL) syrup.
SHARE