Peach & Blackberry Tart
Summer 2019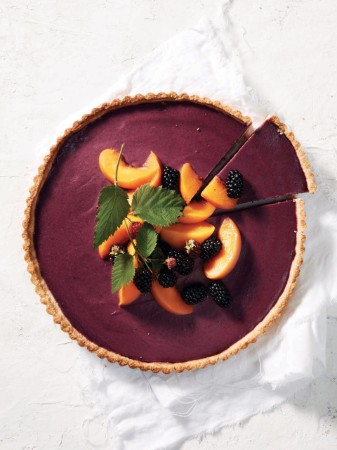 Peach & Blackberry Tart
Summer 2019
BY: Christopher St. Onge
This large tart is a colourful showstopper. The use of a whole egg in the crust ensures a firm result. The filled tart can be made a day in advance, as can the poached peaches, but it should only be decorated, with a few pieces of fruit, just before serving. If you keep and chill the wine used to poach the peaches, it's pretty sensational over ice cream.
CRUST
1 egg
¼ tsp (1 mL) salt
2 ⅔ cups (580 mL) cake & pastry flour
½ cup (125 mL) sugar
½ cup (125 mL) cold unsalted butter cut into chunks

BLACKBERRY PASTRY CREAM
12 oz (340 g) blackberries
½ tsp (2 mL) dried lavender (optional)
1 tbsp (15 mL) lemon juice
1 ½ cups (375 mL) whipping cream, divided
4 egg yolks
½ cup (125 mL) sugar
¼ cup (60 mL) cornstarch

MUSCAT POACHED PEACHES
4 peaches, halved and pitted
2 cups (500 mL) Moscato wine
1 cup (250 mL) small blackberries
Lavender sprigs (optional)
1 Preheat oven to 350°F (180°C).

2 For the crust, whisk egg and salt together in a small bowl; set aside.

3 In a food processor, pulse flour and sugar together. Add butter and process until mixture resembles coarse oats. With motor running, add egg mixture. Tip pastry (mixture will resemble sand) into lightly buttered 11-inch (28-cm) round tart tin with a removable bottom. Press into bottom and up sides (if dough sticks to fingers, use a sheet of plastic wrap between the dough and your fingers). Prick bottom all over with a fork; line with parchment and fill with pie weights (or dried beans). Place tart tin in freezer for 20 minutes.

4 Bake in preheated oven for 20 minutes. Remove weights and parchment. Bake an additional 12 to 15 minutes or until light golden. Remove to a rack and let cool completely.

5 To make pastry cream, add blackberries, lavender (if using) and lemon juice to a blender; purée. Pass through a fine mesh sieve into a medium pot; add 1 cup (250 mL) cream. Bring to simmer over medium-low heat.

6 Meanwhile, in a heatproof medium bowl, beat yolks with sugar until pale golden; add cornstarch and beat to combine.

7 Slowly pour half of cream mixture into yolk mixture while whisking constantly. Pour this mixture into pot and return to mediumlow heat. Cook, whisking constantly, until thickened; let boil while whisking for 1 minute. Scrape into a bowl, cover with cling wrap and let cool completely.

8 Whip remaining ½ cup (125 mL) cream to stiff peaks; fold into blackberry mixture. Scrape into prepared tart shell and smooth with an offset spatula. Chill for at least 2 hours (and as long as overnight).

9 Combine peaches and Moscato in a medium pot over medium heat. Bring to a gentle bowl, reduce to low and simmer for 5 minutes. Re move peaches with a slotted spoon to a paper-towel-lined plate to drain. Keep wine for another purpose if you wish. When cool enough to handle, slip skins off peaches and discard; cut halves into 3 wedges each. Chill for 2 hours (or overnight).

10 Just before serving, decorate top of tart with a few peach wedges, a small handful of blackberries and a sprig or 2 of fresh lavender (if desired). Serve additional fruit alongside.
SHARE