Parmesan Cloud Eggs with Arugula Salad
Spring 2018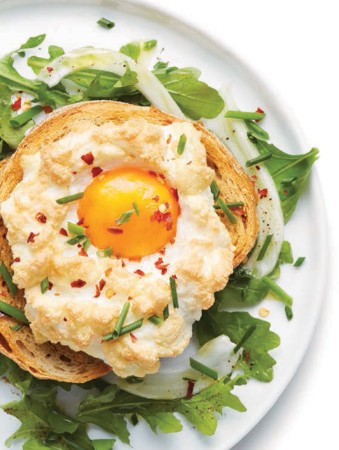 Parmesan Cloud Eggs with Arugula Salad
Spring 2018
BY: Eric Vellend
Enjoy breakfast for dinner with these unique sunny-side-up eggs, which have a runny yolk and an airy, cheesy white. To keep the yolks intact, they are best separated through your fingers straight from the fridge. Buttering the parchment will make removing the eggs much easier—the combination of egg whites and Parmesan can stick like glue.
Unsalted butter, softened
4 large eggs
Large pinch salt
½ cup (125 mL) finely grated
Parmigiano-Reggiano
4 slices rustic bread, roughly 4 inches (10 cm) square
3 oz (90 g) washed baby arugula
¼ bulb fennel, trimmed, thinly sliced on mandoline
1 tbsp (15 mL) extra virgin olive oil, plus more for toast
1½ tsp (7 mL) white wine vinegar
Salt and freshly ground pepper to taste
Finely sliced chives and chili flakes to garnish
1. Preheat oven to 450°F (230°C). Line baking tray with parchment paper. Lightly grease paper with butter.

2. Separate eggs, placing all whites into a large mixing bowl with pinch salt. Carefully place yolks in individual ramekins. Using a whisk, whip egg whites until stiff peaks form. (You can also use a stand mixer fitted with a whisk attachment.) Gently fold in Parmigiano. Spoon 4 equal mounds on prepared sheet. Using a teaspoon, make wells in centres. Bake on middle shelf for 3 minutes. Remove tray from oven and place yolk in each well. Bake another 3 minutes.

3. While eggs are baking, toast bread slices. In a large mixing bowl, combine arugula, fennel, olive oil, vinegar, salt and pepper. Mix salad and divide among 4 plates. Place a toast in centre of each salad. Drizzle toast with olive oil. Carefully remove eggs from sheet with thin spatula and place on top of toasts. Sprinkle with chives and chili flakes. Serve immediately.
SHARE