Pappardelle with White Ragu
Spring 2020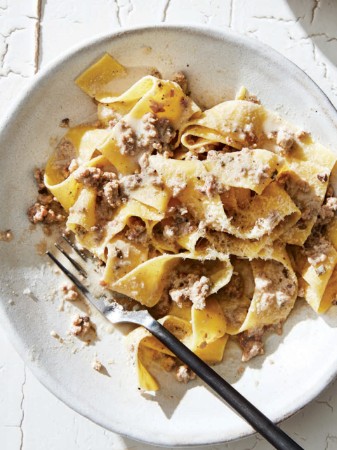 Pappardelle with White Ragu
Spring 2020
BY: Christopher St. Onge
You could be forgiven for thinking ragu bolognese is a tomato and meat sauce, but this version, without any tomato, is closer in spirit to the real deal served in Bologna. There, it is mostly a milk and meat sauce with only a bit of tomato added to balance the dulcet flavours  of the milk. The ample wine used here lends an acidic backbone allowing the tomato to be left out entirely. I've borrowed some warm spice from a favourite version of a white ragu, made from wild boar, that I tried in Siena a few years ago. The resulting sauce is a favourite at my place. The chicken liver adds savoury depth, but because it's difficult to purchase singly I've made it optional.
1 tbsp (15 mL) butter
1 tbsp (15 mL) olive oil
1 small onion, peeled and coarsely grated 5 sage leaves
2 tsp (10 mL) finely chopped rosemary, divided
4 thin slices prosciutto, finely chopped
8 oz (225 g) ground pork
1 chicken liver, trimmed of fat and finely chopped (optional)
1 cup (250 mL) dry white wine, preferably a dry Riesling
1 ½ cups (375 mL) whole milk Pinch ground cloves
Salt and freshly ground black pepper ¼ cup (60 mL) 18% MF cream
Pinch freshly grated nutmeg 1 lb (455 g) dried pappardelle Parmesan cheese to garnish
1 Heat butter and oil in a large skillet with a tight-fitting lid over medium he Once butter is foaming, add onion, sage and 1 tsp (5 mL) rosemary. Cook, stirring occasionally, until the mixture is dry and the onion is translucent but not golden.
2 Add the prosciutto, stir to break apart and cook for 1 minute longer. Crumble pork over and cook until no longer pink, breaking up the meat from time to time with a fork, about 4 min Stir in chicken liver (if using) and cook 2 minutes longer. Add wine, bring to a boil and reduce until a scant few tablespoons of liquid remain. Pour milk over, stir in clove and season with salt and pepper. Cover, reduce heat to low, and simmer for 1 hour.
3 Remove lid (milk will have separated and appear curdled). If most of the liquid still remains, continue cooking until reduced to about a third of the original Stir in cream, nutmeg and remaining 1 tsp (5 mL) rosemary. Check for seasoning and add more salt and pepper if necessary. Remove from heat and cover while preparing pasta.
4 Cook pappardelle in plenty of salted boiling water until al dente. Just before draining, return sauce to medium heat; drain pasta and add to skille Toss to coat several times, cooking the sauce and pasta together for about 1 minute. Divide between bowls and top each with a dusting of Parmesan.
Makes 2 large dinner portions or 4 smaller portions as part of a multi-course meal
SHARE