Pan-Seared Strip Loins with Cashel Blue Sauce
Spring 2011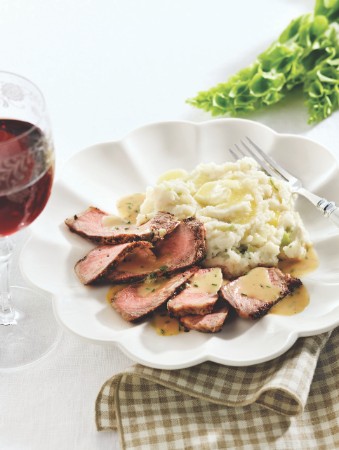 Pan-Seared Strip Loins with Cashel Blue Sauce
Spring 2011
BY: Julia Aitken
Cashel Blue is a creamy artisanal blue cheese produced in Tipperary in southern Ireland. Here, it makes a richly delicious sauce for simple seared steaks. If you can't find Cashel Blue, French Saint Agur is a good substitute. It's important to use homemade or no-salt-added beef stock for the sauce or it will taste too salty. Serve with colcannon, a traditional Irish side of potatoes mashed with steamed Savoy cabbage, butter and milk
2 strip loin steaks, each 12 oz (375 g), 1½ inches (4 cm) thick
2 tsp (10 mL) finely minced fresh rosemary
1 tsp (5 mL) olive oil
Freshly ground black pepper
1 tbsp (15 mL) unsalted butter
2 cloves garlic, very thinly sliced
⅓ cup (75 mL) Irish whiskey
½ cup (125 mL) homemade or no-salt-added beef stock
¼ cup (50 mL) whipping cream
1 cup (250 mL) crumbled Cashel Blue cheese, about 4 oz (125 g)
2 tbsp (25 mL) snipped fresh chives
1 Preheat oven to 400°F (200°C). Trim any excess fat from steaks.

2 In a small bowl, stir together 1 tsp (5 mL) rosemary and the oil. Rub all over both sides of steaks. Season steaks generously with pepper.

3 Heat a medium ovenproof skillet over medium-high heat until very hot. Add steaks and cook for 1 to 2 minutes on each side or until well browned. Transfer skillet to oven and cook for 5 to 7 minutes for medium-rare.

4 Transfer steaks to a cutting board. Cover loosely with foil and set aside.

5 Melt butter over medium-low heat in skillet used to cook steaks. Add garlic and remaining rosemary to skillet and cook, stirring, for 1 to 2 minutes or until garlic softens.

6 Add whiskey to skillet. Bring to a boil, stirring to scrape up any browned bits from bottom of skillet. Boil, stirring often, for about 2 minutes or until whiskey has reduced by half.

7 Add stock to skillet. Increase heat to medium and bring to a boil. Boil, stirring often, for about 3 minutes or until stock has reduced by about half.

8 Add cream and bring to a boil. Reduce heat to medium-low and simmer, stirring constantly, for 1 to 2 minutes or until sauce thickens slightly. Remove skillet from heat and whisk in cheese until it melts and sauce is smooth. Stir in chives.

9 Cut steaks crosswise into thin slices and divide among 4 dinner plates. Drizzle evenly with sauce.
SHARE