Pan-Seared Chicken With Balsamic Sweet Onions And Potatoes
Temps des Fêtes 2004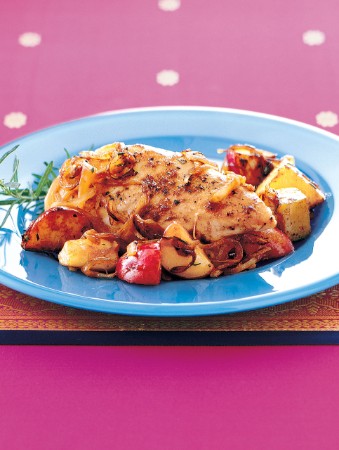 Pan-Seared Chicken With Balsamic Sweet Onions And Potatoes
Temps des Fêtes 2004
BY: Jennifer MacKenzie
Simply made, this skillet supper is certainly a big step up from anything you'd get from takeout, and it will be ready in about half an hour. Choose round waxy-type potatoes to make sure they hold their shape while cooking. Make sure the potatoes are almost tender before adding the vinegar since the acid can prevent potatoes from softening. Serve a crisp green salad or steamed green beans on the side.
4 boneless, skinless chicken breasts
Salt and freshly ground pepper
2 tbsp (25 mL) butter
4 small potatoes about 1 lb (500 g), cut into ½-inch (1-cm) cubes (use red and white potatoes for colour)
1 large sweet onion, halved and thinly sliced lengthwise
1 tsp (5 mL) chopped fresh rosemary (or ¼ tsp/1 mL dried)
¼ cup (50 mL) balsamic vinegar
1 cup (250 mL) chicken stock
Fresh rosemary sprigs
1. Sprinkle one side of chicken with salt and pepper. Heat a large skillet over medium-high heat until hot. Add half of butter and swirl to coat pan. Add chicken breasts, seasoned-side down and season remaining side. Brown, turning once, until well-browned on both sides. Transfer to a plate and cover with foil to keep warm.

2. Melt remaining butter in skillet. Cook potatoes, onions and rosemary, stirring, for 2 minutes or until some liquid is released. Cover, reduce heat to medium and cook, shaking pan often, for about 15 minutes or until potatoes and onions are almost tender and starting to brown. Increase heat to medium-high and add vinegar. Boil, scraping up any bits stuck to pan, until reduced and syrupy. Pour in stock and bring to a boil. Return chicken to pan with any accumulated juices, spooning some of the sauce over chicken. Cover, reduce heat and simmer for about 10 minutes, turning chicken halfway, or until potatoes are tender and chicken is no longer pink inside.

3. Transfer chicken to serving plates. Season sauce and vegetables with salt and pepper to taste and spoon over chicken. Garnish with fresh rosemary sprigs.
SHARE