Pan-Roasted Veal Chops
Hiver 2012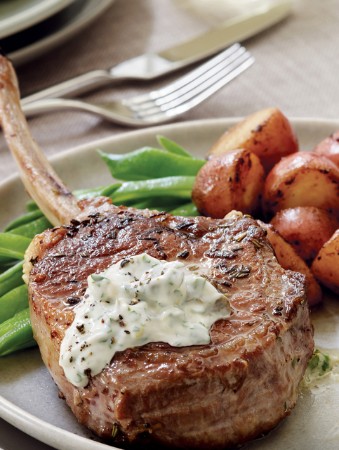 Pan-Roasted Veal Chops
Hiver 2012
BY: Lucy Waverman
Serve with sautéed potatoes mixed with Jerusalem artichokes and green beans.
2 tsp (10 mL) chopped fresh rosemary 
2 tsp (10 mL) grated lemon rind
4 French-cut veal chops, about 12 oz (375 g) each 
Salt and cracked black pepper
1 tbsp (15 mL) olive oil
1 Preheat oven to 450°F (230°C). Combine rosemary and lemon rind and sprinkle on chops. Season with salt and cracked pepper. 

2 Heat ovenproof skillet on high heat until very hot. Add oil. Sear chops about 2 minutes per side, and then place skillet in oven and bake for 10 to 12 minutes, depending on thickness or until chops are just pink inside. Serve with a dollop of Lemon Anchovy Aïoli (recipe follows). 
 



LEMON ANCHOVY AÏOLI
Use this savoury sauce with chicken and fish too.

½ tsp (2 mL) crushed garlic
1 tsp (5 mL) minced anchovy fillets
2 tsp (10 mL) capers
½ cup (125 mL) mayonnaise
¼ tsp (1 mL) grated lemon rind
1 tsp (5 mL) lemon juice
2 tbsp (30 mL) chopped parsley
Salt and freshly ground pepper
¼ cup (60 mL) olive oil
1 Combine garlic, anchovies, capers, mayonnaise, lemon rind, lemon juice and parsley. Season with salt and pepper. Stir in olive oil.
SHARE