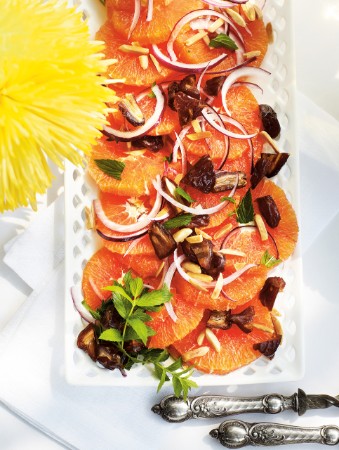 BY: Marilyn Bentz-Crowley
This Middle Eastern salad has many variations, all deliciously refreshing. Orange blossom water is traditionally used to impart a soft citrus flavour, however here a small splash of orange liqueur stands in admirably. This salad is palate-cleansing so try it with spicy chicken, burgers, lamb or ribs for an outstanding yet harmonizing contrast to hot smoky flavours.
4 large or 6 medium navel oranges
1 tbsp (15 mL) orange liqueur such as Grand Marnier
1 tbsp (15 mL) olive oil
⅛ tsp (0.5 mL) salt
¼ medium red onion, very thinly sliced
¼ cup (60 mL) toasted slivered almonds
6 pitted dates, cut into small pieces
2 to 3 sprigs fresh mint
1 Cut top and bottom off each orange so sections are exposed. Squeeze juice from these cuttings into a small bowl; add liqueur, oil and salt. Whisk and set aside.

2 Using a chef's knife, cut away rind and white membrane from oranges; then slice crosswise forming about ½-inch-thick (1-cm) slices. Arrange in an overlapping style in either a flat container for transport or a large serving platter. Scatter onions overtop. Whisk orange juice mixture; drizzle overtop oranges. If serving within a few hours, proceed to next step. Otherwise, cover and refrigerate for up to a day.

3 When ready to transport or serve, scatter oranges with almonds, date bits and torn pieces of mint leaf.
SHARE